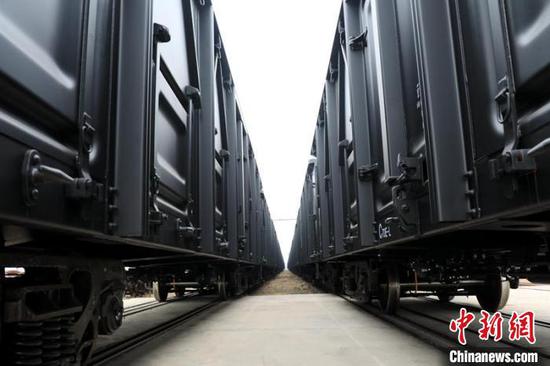 300 China-Laos Railway freight cars roll off assembly line in Meishan, Sichuan Province, Dec.14, 2022. (Photo/China News Service)
(ECNS) -- The first batch of 300 C70E freight cars for the China-Laos Railway manufactured by the CRRC Meishan company rolled off the assembly line on Wednesday in Meishan, southwest China's Sichuan Province.
The freight cars purchased by the China-Laos Railway also marks China-made railway freight cars enter the Lao market for the first time.
While maintaining the domestic market, CRRC Meishan has continuously explored overseas opportunities in Singapore, Egypt, Azerbaijan, Laos, Turkey and Indonesia.
The company has exported more than 3,000 railway freight cars to Southeast Asia since it first sent flat cars to Myanmar in the 1980s.
The 300 freight cars will be delivered to Mohan Port via Chengdu-Kunming Railway at the end of December after acceptance and transported to their destination via the China-Laos Railway. They will serve freight transportation along the Mohan-Vientiane section of the railway.
The China-Laos Railway has handled over 8.5 million passenger trips and transported 11.2 million tons of cargo as of Dec. 2, 2022, since its launch a year ago, the Chinese railway operator said.
It has provided a convenient and efficient means of travel for residents from both countries, and helped smooth logistics between China and ASEAN countries.