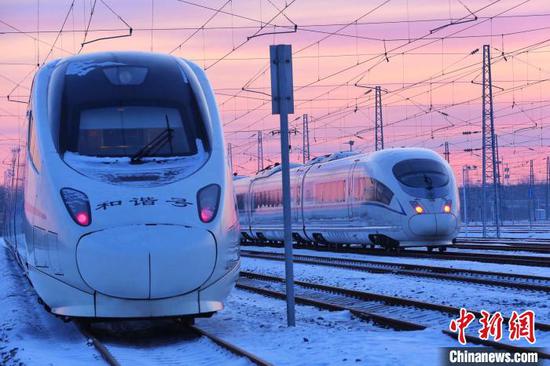 Photo shows a bullet train running on the Harbin-Dalian high-speed railway. (Photo provided to China News Service)
(ECNS) -- The Harbin-Dalian high-speed railway, the world's first to operate in extremely low temperatures, has seen 670 million trips on its 10th anniversary on Thursday, said the China Railway Harbin Group.
The 921-kilometer line linking Harbin, capital of Heilongjiang, and Dalian, Liaoning Province, has a designed speed of 350 kph. Its 23 stations span 10 cities of Heilongjiang, Jilin and Liaoning provinces.
It has shortened the travel time between Harbin and Dalian from 13 hours to 3.5 hours after operation while a two-hour traffic circle has been established among Harbin, Changchun in Jilin and Shenyang in Liaoning.
Heilongjiang is located in the northernmost part of China, with the lowest temperature exceeding minus 30 degrees Celsius. The maximum snow thickness along the route is 30 centimeters and the maximum depth of freezing soil in winter exceeds two meters.
China has achieved a series of breakthroughs, overcoming many technical problems like construction on seasonal frozen soil and ensuring the vehicle is cold-proof in the past ten years.
This route covers 50 percent of the total population of the three northeastern provinces along it. Data shows the tourism revenue of Heilongjiang Province doubled in 2019 compared with that before the opening of the route in 2012.