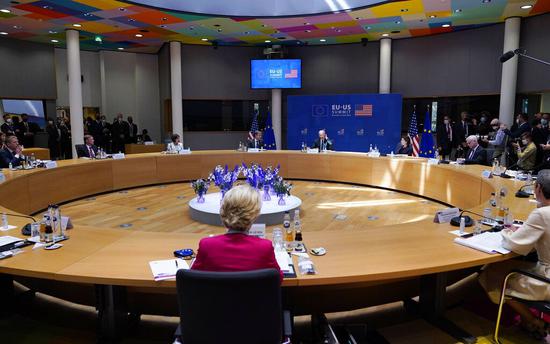 President Joe Biden speaks while attending the United States-European Union Summit at the European Council in Brussels, Tuesday, June 15, 2021, as Secretary of State Antony Blinken looks on. (Photo/Agencies)
Special: Commentary
By John Lee
(ECNS) -- The European Union (EU) has threatened to take retaliatory measures against the U.S. over electric car subsidies that favor domestic manufacturers, according to an AFP report.
U.S. President Joe Biden signed the Inflation Reduction Bill into law in August, which includes state aid for electric cars made in North America and support for U.S. battery supply chains, making the U.S. more attractive to European enterprises in the new energy and electric car industries.
The EU's competition chief, Margrethe Vestager, said last month that "as a matter of principle, you should not put this up against friends," as reported by the Financial Times. Both President of France Emmanuel Macron and German Chancellor Olaf Scholz expressed their concerns over related clauses. Scholz even warned the U.S. that the bill may trigger a tariff war.
Risking a breach in international trade rules, the U.S. has won more advantages in market competition, which will harm European employment and economic growth. This could escalate the friction between the two sides on subsidies for new energy industries, undermining the EU's confidence to cooperate with the U.S.
Previously, affected by the Ukraine crisis, the U.S. wooed the EU to impose severe sanctions on Russia, resulting in the EU being trapped in an energy crisis. Meanwhile, the U.S. took the chance to sell liquefied natural gas to Europe at a high price and earn huge profits.
The EU has been trying to find energy alternatives to lower its dependence on Russia, forcing it to look to the U.S. as a new energy supplier.
Today, energy prices in Europe remain high, which has hit the normal production activities of its countries and put their manufacturers in a dilemma. The Inflation Reduction Act is bound to cause more European enterprises to transfer their production to the U.S., exacerbating the difficulties facing the European economy.
The U.S. firmly adheres to the principle of "America First." On the one hand, it draws the EU to fight against "foreign enemies," while on the other hand, it does not hesitate to sacrifice the interests of its allies to safeguard its own interests. The indispensable EU ally has become its "harmful friend."
If the two sides fail to reach a consensus on these contradictions, the EU may take retaliatory measures, likely triggering a new trade war.