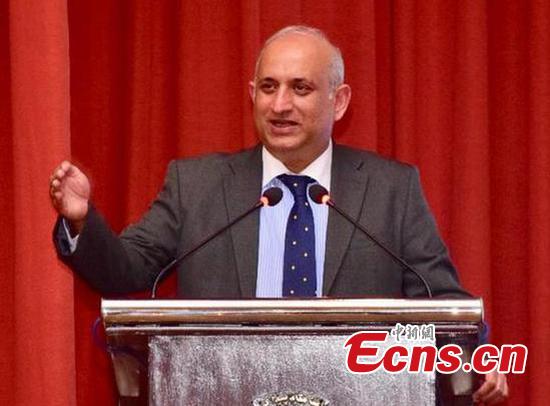 Former Minister of State of Pakistan Haroon Sharif. (File photo courtesy of the interviewee)
(ECNS) -- China is the most important strategic partner and neighbor to Pakistan, and both countries need to further develop their strategic and diplomatic ties via people centric cooperation under the China-Pakistan Economic Corridor (CPEC), said former Minister of State of Pakistan Haroon Sharif during an interview with China News Network on Monday.
The former minister made the remarks ahead of Pakistani Prime Minister Shehbaz Sharif's first official visit to China at the invitation of Chinese Premier Li Keqiang.
It is job creation and export revenue under the CPEC that will have the maximum impact on lives of people, said Sharif, who served as Pakistan's lead representative for Industrial Cooperation in the Joint Cooperation Committee of CPEC.
The senior advisor to the U.N. suggests that Pakistan speed up completion of functional economic zones while China needs to create financial support for industries to relocate and increase Pakistan's export competitiveness.
Pakistan can develop a large number of textures, agriculture and livestock products to meet Chinese demand, he said.
Sharif also strongly recommends strengthening knowledge partnerships between both nations. "People need to understand culture, politics and other related dynamics to strengthen ties between the two strategic partners. It is people-to-people interaction that will sustain and cement existing ties," he said.
Both Pakistan and China need to devise a strategy to balance the trade gap through value addition to Pakistani exports, he noted.
He has a positive outlook on common e-commerce platforms as online shopping is getting popular in Pakistan. "daraz.pk and many other local platforms are used but need technology enhancement to drive efficiency," he said.
Cross-border online shopping has limited outreach in Pakistan due to the time it takes to deliver purchases and the credit card requirement.
Besides that, "enabling regulations for e-commerce is critical. This includes local currency payment systems, courier services and cyber security," Sharif added.
Sharif said "all segments of Pakistani society see China and Pakistan as Iron Brothers who have stood together through all challenges" and Pakistan is grateful to China for immediate support of $90 million for flood-affected people.