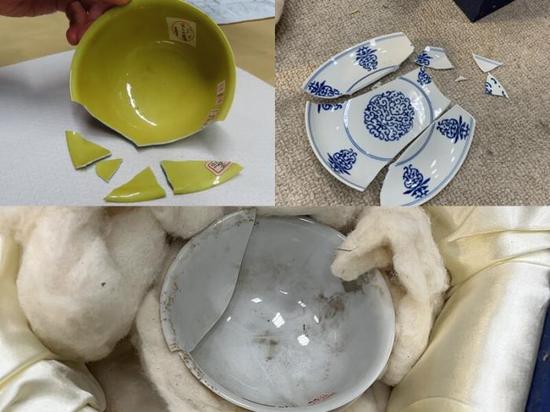 Photo shows three pieces of porcelain relics. (Photo courtesy of Taiwan's Central News Agency)
(ECNS) -- The National Palace Museum in Taipei refused to extend its treaty with Lanqianshanguan Studio, which has preserved rare cultural relics in the museum on the grounds of "limited warehouse space," triggering dissatisfaction among some industry insiders.
The founder of Lanqianshanguan, Lin Boshou (1895-1986), who was an expert in calligraphy and paintings, decided to preserve his collection of 219 paintings and calligraphy works and 109 ancient ink stones in the National Palace Museum in Taipei, in order to encourage private donations of cultural relics.
These relics are of great importance to Taipei's Palace Museum and have great value.
Some people have questioned why the museum declined to keep these relics.
Liu Fangru, a former official of the National Palace Museum in Taipei, said cultural relics from Lanqianshanguan can be better preserved and useful for their diverse artistic education functions.
Experts said that the market value of only two cultural relics, Yellow-silk Version of the Orchid Pavilion Preface by Chu Suiliang (596-658), and the Thousand Character Classic in Cursive Script by Huaisu (737–799), far exceeds that of the three pieces of porcelain broken a few days ago in the National Palace Museum in Taipei.
Such a move, coupled with the accident of breaking the porcelain relics, has aroused doubt about the museum's professionalism.