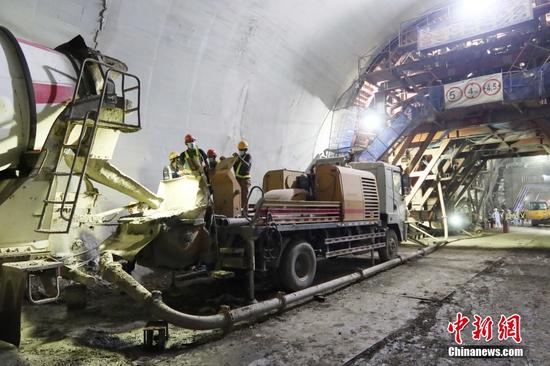 Photo shows the construction site of the Jakarta-Bandung High-Speed Railway. (Photo provided by Power China)
(ECNS) -- With the completion of the No. 2 Tunnel of Jakarta-Bandung High-Speed Railway, the beam erection channel of the whole railway was set up, laying a solid foundation for its opening-to-traffic in June 2023.
Located in Purwakarta County of West Java Province, the No. 2 Tunnel is 1,052 meters long, with double tracks and a maximum depth of 53.6 meters.
The tunnel is one of the most difficult parts to construct due to geological conditions that may easily cause collapse or deformation.
All 13 tunnels on the railway have been finished; over 90 percent of subgrade preparation, bridges and stations have been completed; and track-laying work on the main line has begun.
A set of high-speed electric passenger trains and a test train customized for the railway were shipped to Indonesia on Aug. 21.
The Jakarta-Bandung High-Speed Railway will connect Jakarta, capital of Indonesia, and Bandung, the fourth largest city in Indonesia. The line has a total length of 142 kilometers, with a maximum designed speed of 350 km/h.
Travel time between the cities will be shortened to 40 minutes from more than three hours.