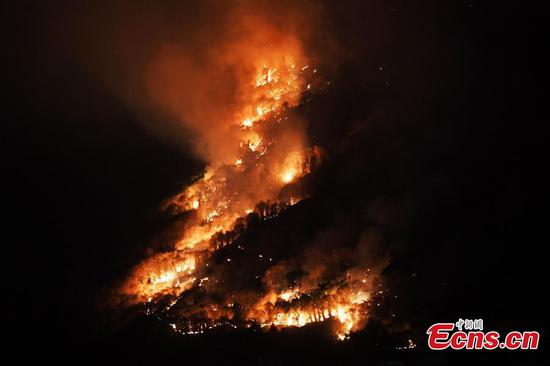 A massive fire burns on a mountain in Fuling district of Chongqing, Aug. 19, 2022. Firefighters battle to contain the blaze. (Photo: China News Service/Chen Chao)
(ECNS) -- Several wildfires have been reported in mountain and forest areas in the Jiangjin, Dazu, Tongliang, and Banan districts of southwest China's Chongqing since Thursday, all due to high temperatures and drought.
The local government has dispatched more than 5,000 personnel from rescue teams, armed police, forest firefighters, and other departments, as well as seven helicopters, for rescue and relief efforts.
About 1,500 people have been evacuated. No casualties have been reported.
Chongqing has been baked by its worst heat wave since 1961, when nationwide observation statistics began.
Temperatures soared to 45 degrees Celsius on Thursday and Friday.
Weather forecasts say the hot weather will continue Monday in Chongqing, with the highest temperatures to reach 39 degrees Celsius.
It is estimated that from July 1 to August 25, high temperature days in Chongqing may reach 40.8 days, twice as many as in recent years.