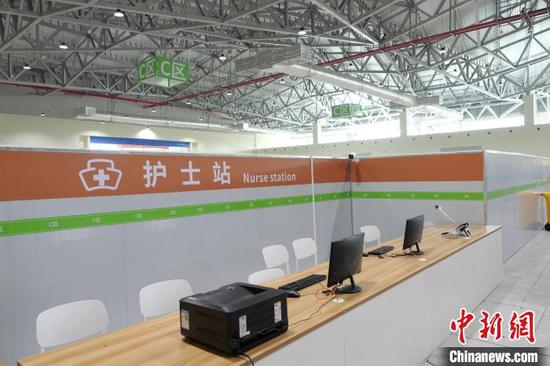 The second makeshift hospital in Sanya is delivered, August 11, 2022. (Photo provided by China Construction Third Engineering Bureau Co. Ltd)
Special: Battle Against Novel Coronavirus
(ECNS) -- A second makeshift hospital with 2,000 beds was delivered to Sanya, Hainan Province, on Thursday.
Covering an area of 21,200 square meters, the hospital supplies quarantine wards, offices and dormitories for medical staff, and warehouses.
Based on an international expo center project, the makeshift hospital took 600 construction workers 24 hours to finish.
It is divided into different sections to avoid COVID-19 cross-infection.
The west side near the main entrance is the area for infected patients, ambulance decontamination, sewage treatment, temporary storage of contaminants, and patient admission and discharge.
The "clean" area is on the east side. It includes a rest area for medical staff, offices, and warehouses, and serves as the entrance and exit for medical workers.
The hospital is equipped with 14 work stations for doctors and nurses, as well as support rooms for treatment and emergency use.
Sanya reported 471 new confirmed COVID-19 cases and 567 asymptomatic cases on Thursday.
The city has reported a total of 2,161 confirmed cases and 2,071 asymptomatic cases from August 1 to August 11.