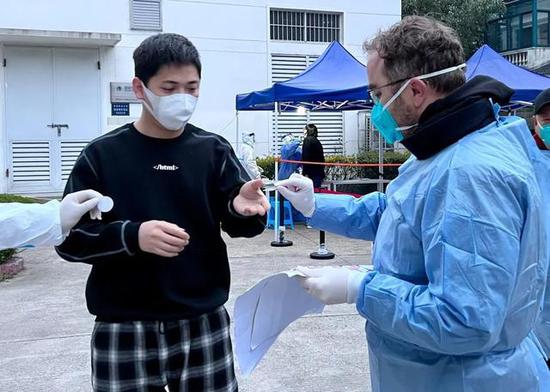 David Lasne (R) serves as a volunteer. (Provided by the interviewee)
Special: Battle Against Novel Coronavirus
By MIAO Lu
(ECNS) SHANGHAI-- "I can do early morning, evenings and weekends. Please register me as a volunteer. Do not take me as a foreigner who cannot communicate properly. I can understand and communicate in Mandarin Chinese. I want to help as much as I can." This is what David Lasne said to the neighborhood committee when he applied to become a volunteer.
Lasne, a Frenchman, came to China 20 years ago and has lived in Xujing Town, Qingpu District, Shanghai for the past nine years. Enthusiastic about public welfare, he came to join the volunteer team as soon as he learned that the local community was short of hands for the fight against the Covid surge. Even though his day job has kept him busy, Lasne still hopes he can lend "a helping hand" in his spare time.
With the arrangement of the community staff, Lasne started to work on March 18 and has participated over a dozen volunteering shifts. When he first started, Lasne still remembers that at the beginning of the volunteer activity, everyone had to wear a "big white" hazmat suit and speaking Chinese only, and none of the people living in the community realized he was a foreigner. As the epidemic situation improved in the community and some volunteers downgraded to wear "light blue" protection clothes, people started to recognize him. In the process of volunteering, Lasne also has a further understanding of the epidemic prevention policy in Shanghai. He told reporters: "Whether it is before the nucleic acid test or the antigen self-test, the community has made a thorough arrangement to distribute materials and collect results timely. The government has thought a lot, done a lot, and tried a lot of methods in terms of Covid control."
In fact, his whole family are keen on participating in public welfare. According to the neighbors, Lasne's wife and his two daughters are always there to help with various events organized by the local community, setting up the venue, preparing tea, or sorting garbage afterwards.
Today, Lasne lives in a community that has changed from a closed area to a controlled area, which means that residents of the community can go downstairs and move around, and there are fewer opportunities for volunteers. Lasne is still helping with antigen self-test daily collection but he feel less serving residents.
Lasne's wife also used to help and support group purchase of the daily necessities. She organized the group to buy fruits and vegetables as well as other household material while Lasne took his duty to deliver them to each families who made an order. "I have self-taught Chinese without taking a Chinese lesson, so I can't read Chinese characters. But that doesn't stop me from delivering food to everyone," Lasne says with a smile.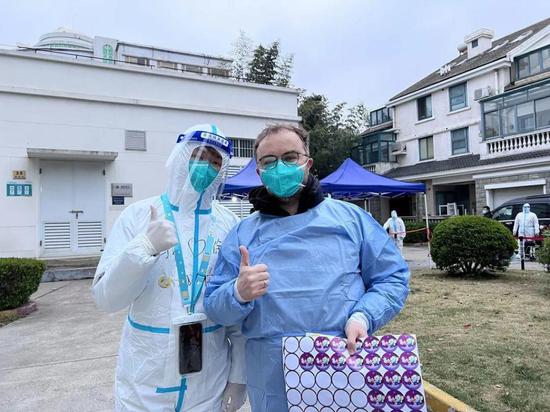 David Lasne (R) and a fellow volunteer. (Provided by the interviewee)
Through the period of volunteering activity, he feels that he has begun to truly integrate into the community. Lasne says: "I have met my neighbors in the community before, maybe just to say hello, but now after volunteering, every time I go downstairs, the children in the neighborhood would come up to have a long chat. They have also started to call me Uncle. It makes me feel much closer to them."
When friends and family in France heard Lasne was volunteering during the lockdown, they all phoned to tell him to take extra care. David Lasne believes that it is great to live in a place like China where the Covid pandemic has been taken very seriously; meanwhile, it's a great thing to protect the lives and health of residents. "Everybody -- the medical staff, the neighborhood committee, the community management and the volunteers -- has been working hard on the front line of fighting the Covid. Everyone has persisted in what they are doing. Now the situation is improving, and I believe Shanghai will soon return to normal," Lasne said.