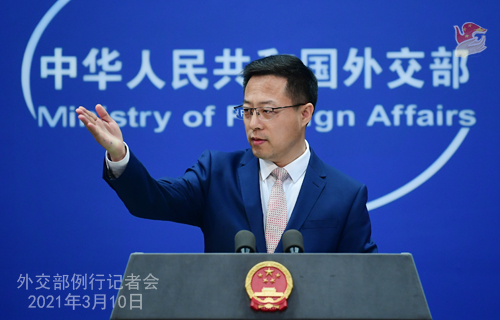 Zhao Lijian, the spokesman for the Chinese Foreign Ministry, speaks at a press conference on Mar. 10, 2021. (Photo/fmprc.gov.cn)
(ECNS) -- China is a firm believer in making COVID vaccines a public good, opposing "vaccine nationalism", "vaccine divide" or any attempt to politicize vaccine cooperation, said Foreign Ministry Spokesperson Zhao Lijian at a press conference on Wednesday.
Zhao's remarks came in response to a query that a leaders' meeting of the Quad group of countries on Friday is an attempt to counter China's widening "vaccine diplomacy".
The spokesman stressed that "China was among the first to pledge that its vaccines, when available, will be made a global public good, and China has worked in real earnest to improve vaccine accessibility and affordability in developing countries."
China is also a committed front-runner in promoting international vaccine cooperation. It has carried out vaccine R&D and production cooperation with a dozen or so countries, attracting more than 100,000 volunteers of over 100 nationalities, Zhao said.
More than 60 countries have authorized the use of Chinese vaccines, he added.
The safety and effectiveness of Chinese vaccines are earning recognition across the world. China is prepared to discuss with other countries the feasibility and protocols for mutual recognition of vaccination, he said.
"China is a steadfast advocate for equitable vaccine distribution. We have joined COVAX, under which China has undertaken to provide an initial 10 million doses for emergency use in developing countries. So far, China has donated or is donating COVID vaccines to 69 developing countries in urgent need, and is exporting vaccines to 43 countries," said Zhao.
China has donated vaccines to peacekeepers from various countries and is also ready to work with the International Olympic Committee to provide vaccines to Olympians. It is the country's hope that Chinese vaccines will inject more confidence and hope into the global fight against the virus, he added.
"A number of vaccines are now available around the world. It is up to each country to decide which one to choose. Whether it is a Chinese vaccine or not, it is a good vaccine so long as it is safe and effective," Zhao said.