"That talking about Tibetans means talking about Tibetan Buddhism is ignorance and prejudice in nature, as well as conceptual deviation using partial Tibetan society to substitute the whole."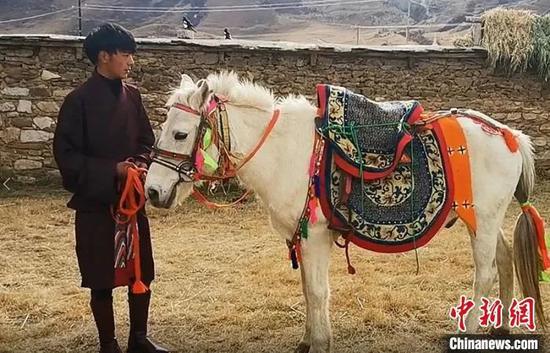 Ding Zhen and his white horse "Pearl".
Ding Zhen, a 20-year-old "sweet but wild boy"has become an unexpected hit in China this winter. Because of his simple and handsome image, he became a "star with huge fan bases" and has been promoted as a tourism ambassador by his hometown Litang County, Garze Tibetan Autonomous Prefecture, Sichuan Province. The Tibetan boy's new account on the social media platform has gained over a million followers.
However, some overseas media and people with ulterior motives who are waiting for the opportunity to attack China also had designs on Ding Zhen. Recently, there are comments overseas that the image of "Ding Zhen" on the internet implies an incompleteness,"behind which Tibetan history, culture and religion are all absent", and that it is caused by "Sino-Tibetan separation", an ethnic policy of separating the Tibetan ethnic group from religion.
As the "old trick" of anti-China media, they use the topic of "Ding Zhen" to attack China's ethnic and religious policies. Recently, a number of Chinese scholars interviewed by China News Service pointed out that the suffering historical period of Tibetans was the "Shangri-La" in some people's minds, which was in line with their moral and aesthetic values.
"It is prejudice to talk about Tibetan closely related to Tibetan Buddhism"
Ding Zhen comes from an ethnic minority area with a majority Tibetan population. However, some people believe that Tibet and Tibetan-related counties in the four provinces of China and inland provinces and cities with a large Han populationare independent of one another in China, and there are even opposite emotions existing. They turn a blind eye to or deliberately ignore the integration of different ethnic groups in China.
PenbaLhamu, a Tibetan scholar and director of the Institute of South Asian Studies at the Tibetan Academy of Social Sciences, TAR, stressed that using Ding Zhen to attack China's ethnic and religious policies is a typical way to make ulterior motives. People who have been living in Tibet and Tibetan-related counties in the four provinces of China can see that thephenomenon mentioned in those reports does not exist. China's ethnic and religious policies have been conducive to the development of Tibetan society for a long time.
Xiao Jie, deputy director of the Institute of Contemporary Studies at the China Tibetan Studies Center, said that the basic principles of China's ethnic policy are equality, unity, mutual assistance, harmony and common prosperity of all ethnic groups. The core of China's religious policy is the freedom of religious belief, which can be divided into respecting faith, law-based administration, independent self-management, and guiding religions to adapt to socialist society. Religion is not an obstacle to the communication and blending of different ethnic groups.
He emphasized that China's ethnic policy and religious policy deal with affairs in different fields and in different natures. As the feudal serfdom society used to be theocratic and the proportion of religious believers in Tibet is higher than that in other provinces and regions, it is hard for some to avoid the misunderstanding that "Tibetans all believe in Tibetan Buddhism".
Since its peaceful liberation, Tibet has experienced a series of major historical stages such as democratic reform and reform and opening up. Its economy, society and culture have been developing at a high speed; social change has also been drastic and profound; and the degree of social diversification is constantly improving. Significant changes have taken place in the ethnic and religious structure of Tibet, even among the Tibetan people, some believe in different religions or no religion.
In Xiao Jie's view, this is the natural law of economic and social development, without any so-called "deprivation" of specific ethnic groupsand religions. Some people overseas hold long-term ignorant prejudice towards Tibet, seeing it as stationary society in a museum. They even emotionally recall the era of feudal serfdom when Tibet practiced theocracy.
Zhu Jingjin, deputy researcher in Collaborative Innovation Center for Security and Development of Western Frontier China in Sichuan University, also said that with changes of economy and society, quite a few Tibetan people live, work and study apart from religions. People should treat the relation of ethnic groups and religions with a dialectical view, rather thanequal Tibetan Buddhism and Tibetan ethnic features.
GuoKefan, head of Marxist Theory Institution in Tibetan Academy of Social Science, TAR, noted that it can be seen from Ding Zhen's surprisingly popularity that magnificent local landscape, Ding Zhen's identity as a Tibetan and so on have been a great push. "Ding Zhen's Popularity" is a cultural phenomenon without key words of ethnic groups or religions. If someone politicizes the phenomenon, even defame and assault Chinese ethnic and religious policies, then there's an ulterior motive.
"That talking about Tibetans means talking about Tibetan Buddhism is ignorance and prejudice in nature, as well as conceptual deviation using partial Tibetan society to substitute the whole. From this perspective, the naturalstate that ethnic group is ethnic group and religion is region inversely becomes a compulsory 'deprivation'." As Xiao Jie noted, this is just ignorance of the social fact that Tibet is developing prosperously.
"Religionis not the whole of Tibetan society"
In 2019, China officially published the whitepaper Democratic Reform in Tibet –Sixty Years On, which said "Currently, Tibet has 1,787 sites for the practice of Tibetan Buddhism, over 46,000 resident monks and nuns, and 358 Living Buddhas. There are four mosques and over 12,000 native Muslims, and one Catholic church and 700 believers. Tibetan and other minority ethnic groups carry out their religious activities in accordance with native traditions."
If you visit Tibet, it is easy to find that in monasteries of Tibetan Buddhism, traditional religious activities such as learning scriptures and debate, promotion through degrees, initiation as a monk or nun, abhisheka (empowerment ceremony), sutra chanting, and self-cultivation are held on a regular basis, while ceremonial activities are also held at important religious festivals in accordance with local customs. Ordinary believers usually have a scripture room or a Buddhist shrine at home, and such religious activities as circumambulation while reciting scriptures, Buddha worship, and inviting lamas or nuns from monasteries to hold religious rites at home are regularly practiced. The Living Buddha reincarnation is a succession system unique to Tibetan Buddhism, and is respected by the state and governments at different levels of the autonomous region.
GuoKefan emphasized to the reporter that Chinese Constitutions and ethnic and religious policies never include special rules linking specific ethnic groups to specific religions, letting alone the so-called "special practice". Religious works can be concluded as protecting lawful behaviors, stopping unlawful behaviors, containing extremism, defending interference and striking crimes. The fundamental goal of Chinese religious works is to actively guide religions to adapt to the socialist society.
Xiao Jieobserved that from micro and stationary perspectives the proportion of religious population in Tibet and other Tibet-related agricultural and pastoral areas in four provinces is relatively high. Residents have a close relation with monasteries in daily life. But from macro and dynamic perspectives, Tibet and other Tibet-related states and counties are rapidly socially developing, which is inseparable from long-term policies made by the state and governments at different levels, for Tibet's construction and support in need.
In Tibet and other Tibet-related states and counties in four provinces, the relation of religion to social development is like that of part and whole. Xiao Jie said, in general, different religions coexisting in harmony is a peaceful and quite good condition. If we take a broader view, we can find that all social aspects in Tibet and other Tibet-related states and counties in four provinces are dynamically prosperous, including protection and promotion of excellent traditional culture, development of modern industries, progress of people's wellbeing, ecological environmental protection and construction and so on. He emphasized that one should not literally see religionas the whole of Tibetan society.
In the past, there was a tradition in Tibet that agro-pastoralists sent their children to temples to become monks, which was the only way for them to receive basic education. But today Tibet is the first province in China to implement 15 years government-funded education. In a discussion with Chinese religious leaders in the summer of 2020, the 11th Panchen ErdeniQoigyiGyaibo said that basic education in Tibet has been well implemented, and the coverage rate of compulsory education is higher than the national average. From this point, we can see that the social responsibilities of Tibetan Buddhist temples are changing with the times.
With regard to overseas media reports that "Tibetan families always send their best children to temples",Xiao Jie said that although there are still some minors in Tibet and other Tibet-related states and counties in four provinceswho refuseto receive compulsory education and becomemonks, with the continuous improvement of economic and social development in Tibet and other Tibet-related states and counties in four provinces, and local governments at all levels consolidating their achievements in poverty alleviation and promoting rural revitalization, the children of Tibetan families are not confined to the only option of "becoming monks in the temples". Instead, they have a wide variety of choices.More and more families in farming and pastoral areas are willing to let their children receive compulsory education.
"To kidnap the development of Tibetan society and even hinder the realization of modernization on the pretext of preserving traditions has been a long-standing prejudice of some people outside China."PenbaLhamu also points out that the practice of sending children to temples mostly occurred before the democratic reforms in 1959.In that era of theocracy, there was only one way for people to become the social elite and further change their destiny.Nowadays, as our entire country is moving toward modernization, why should we ask the Tibetan society to conform to the old ways, preserve backward traditions, and deprive children of their rights to receive education? "These unrealistic claims are often made by people who live in a modern life and are even well-educated."
Ding Zhen, who cannot bear the single imagination from the outside world,
The mixed Internet information and the Tibetan culture which has heavy history, both collided fiercely on Ding Zhen.The resulting chemical reaction was beyond the imagination of the original short video photographer and anyone around him.
Recently,Ding Zhen has caused controversy for smoking e-cigarette, with netizenslabeling him as "image reversal".It took only two months for Ding Zhen to turn from a "star with huge fan bases" to a person who need to make a public apology.Many people began to wonder how big the gap is between Ding Zhen himself and the image which the outside world imposes on him?
Zhu Jingjin said that when the domestic and foreign Internet products about Ding Zhen reach a certain order of magnitude, there will be a variety of interpretation of this figure and its surroundings, which is vulnerable to distortion by foreign forces with ulterior motives.
Xiao Jie also pointed out that the phenomenon of "Ding Zhen's popularity" is essentially the inevitable outcome of the deepening exchanges and integration of various ethnic groups in the era of Internet. From the discussions of media, netizensand even the official on the Ding Zhen phenomenon, it can be seen that people from all sectors of society care about ethnic minorities, and appreciate China's diversified and integrated culture, rather than the "curiosity seeking mentality of exotic atmosphere from the perspective of Orientalism" as stated by foreign comments. As the late sociologist FeiXiaotong summarized for cultural exchanges between different ethnic groups, "Appreciate the culture of others as do to one's own, and the world will become a harmonious whole. Everybody cherishes his or her own culture, and if we respect and treasure other's culture, the world will be a harmonious one."Mutual respect and appreciation between the Han nationality and other ethnic groups is the only way to build a common spiritual society for China.
"The key to viewing Ding Zhen phenomenon is not whether the information is comprehensive or misunderstood, but the deep appreciation of ethnic minorities and their cultures behind the Internet craze, as well as the great demand and motivation for exchanges among ethnic groups." Xiao Jie added that "Ding Zhen's popularity" maybe just a fragment, but with the rapid popularization of smart devices and Internet in Tibet and other Tibet-related states and counties in four provinces, more and more Tibetans have been doing the livestreaming on social media platforms such as Douyin and Kuaishou to show off their talents or doing the live commerce. It is conceivable that more Tibetans and other ethnic minorities will become internet celebrities in the future, further accelerating the construction of mutual understanding, appreciation and common emotional ties between the Han nationality and ethnic minorities.
(Source:China News Service)