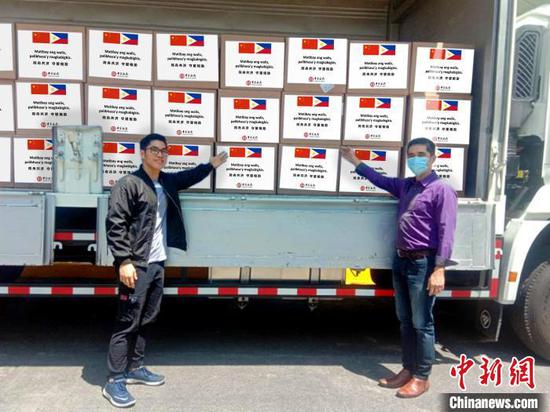 Surgical masks donated by the Bank of China to the Department of Health of the Philippines arrive at Ninoy Aquino International Airport in Manila, March 28, 2020. (Photo provided to China News Service)
Special: Battle Against Novel Coronavirus
(ECNS) -- A cargo plane carrying 500,000 surgical masks donated by the Bank of China to the Department of Health of the Philippines arrived at Ninoy Aquino International Airport in Manila on Saturday.
On the delivery boxes were written both in Chinese "We help each other through thick and thin" and Tagalog "Matibay ang walis, palibhasa'y magkabigkis." (A broom is sturdy because its strands are tightly bound.)
"The donation is very timely for the Philippines at such a critical and difficult time. Thanks to the Bank of China for your help," said an official in charge of the Bureau of International Health Cooperation.
Philippine President Rodrigo Duterte declared a "state of emergency" on March 25 to contain the pandemic.
A total 343 new COVID-19 cases were confirmed in the Philippines on Monday, bringing the number of infections across the country to 1,418, according to the Department of Health.
At least nine medical staff have died of COVID-19 as of March 29.
Five private hospitals in the Philippines have announced they will stop accepting COVID-19 patients as their wards are filled with infectious patients.