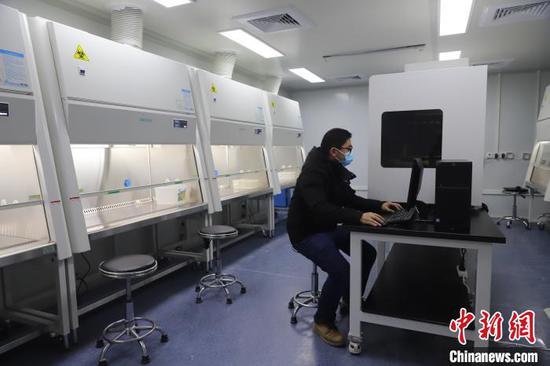 A technician tests the equipment at the Huoyan laboratory in Wuhan, Hubei Province, Feb. 5, 2020. (Photo/China News Service)
Special: Battle Against Novel Coronavirus
(ECNS) -- The Huoyan (Fire eye) laboratory dedicated to novel coronavirus nucleic acid test was unveiled by the BGI Genomics in Wuhan, Hubei Province on Wednesday.
The highly automated laboratory will be able to raise test samples from the original 200 to 10,000 per day, and reduce testing times from two days to hours.
That will greatly relieve the testing pressure in Hubei, the hard-hit province amid the novel coronavirus outbreak.
At present, there are about 4,000 testing samples for novel coronavirus in Hubei Province every day.
By Wednesday, Hubei had reported 19,665 confirmed cases of the novel coronavirus infection, with 549 deaths and 3,084 cases in severe or critical condition.
Its provincial capital Wuhan reported 1,766 new infections and 52 new deaths.
China has employed various methods in combating the novel coronavirus epidemic, including sending medical staff to Wuhan and building makeshift and cabin hospitals.
The 2000-square-meter Huoyan laboratory was built by BGI Genomics in Wuhan completed in 7 days.