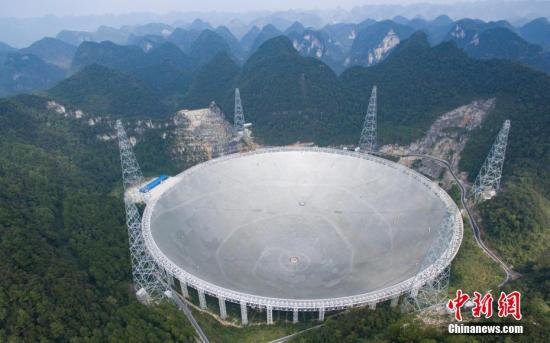 File photo shows the Five-hundred-meter Aperture Spherical Radio Telescope (FAST) in southwest China's Guizhou Province. (Photo/China News Service)
(ECNS) - The Five-hundred-meter Aperture Spherical Telescope (FAST), the world's largest, is set to become more sensitive to radio signals once installation of a new 19-beam receiver is complete.
The 1.2-ton beam receiver, developed by Chinese and Australian scientists over a year and at a cost of 20 million yuan ($3.14 million), will be put into use in early June to allow the telescope to detect weaker and farther radio signals, Science and Technology Daily reported on Thursday.
FAST, which is located in Southwest China's Guizhou Province, is believed to be the world's most sensitive radio telescope. Its tasks include observing pulsars, exploring interstellar molecules and monitoring interstellar communication signals.
Jin Chengjin, chief engineer of FAST's receiver system, said the 19-beam receiver will make FAST more powerful in searching for new pulsars and spectral lines, which will help with exploring the universe.
The receiver is designed by Commonwealth Scientific and Industrial Research Organisation (CSIRO), the body behind what was previously the world's most advanced receiver -- the 13-beam.
Dr. Douglas Hayman of CSIRO, who is in Guizhou for the installation, said the 19-beam receiver is based on the CSIRO's rich research experience over many years.
Since FAST began trial operations in September 2016, it has discovered 51 stars that bear features similar to pulsars, 11 of which have been confirmed as new pulsars by observatories in other countries, according to Xinhua.