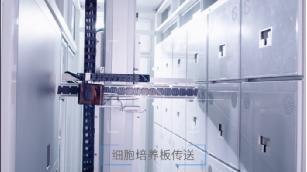 (Photo/CCTV)
(ECNS) -- Chinese researchers announced on Tuesday a breakthrough in developing the world's first large scale, fully automated and standardized pluripotent stem cell induction and culture equipment.
The equipment, developed by the Guangzhou Institute of Biomedicine and Health and the Chinese Academy of Science, passed review and was accepted on Tuesday. The research is listed as a key state science and technology project.
Chinese researchers overcame eight critical technical challenges in four years to achieve a number of innovative results, reported China Central Television.
The system can effectively address a range of issues arising in traditional laboratory work such as low efficiency, high labor and time requirements, and poor safety, in developing pluripotent stem cell cultures that are in great demand for various research across the globe.
The system greatly reduces costs and improves quality, said CCTV.
Stem cells can self-renew or multiply while maintaining the potential to develop into other types of cells. They are valuable research tools and might in future be used to treat a wide range of ailments.