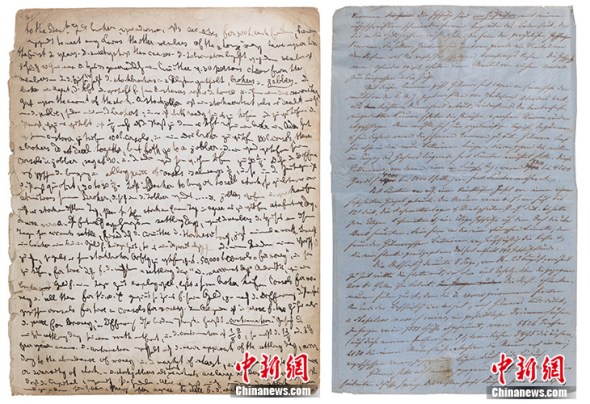 This combo photo shows manuscripts by Karl Marx (L) and Friedrich Engels (R) respectively. (Photos provided to China News Service)
(ECNS) - Two original manuscripts by Karl Marx and Friedrich Engels will be put up for auction on May 21, said Beijing Council International Auction
In one handwritten note mainly in English and occasionally German, Marx talked about A Practical Treatise on Banking by James William Gilbart. The note was later used by the German philosopher in his studies multiple times.
The work was one of 24 notes about economic studies left by Marx from 1850 to 1853 in London. The auction house said the one-page manuscript is estimated to be worth 1 million yuan ($157,000) to 1.2 million yuan.
Engels' manuscript is thought to be his contribution to Allgemeine Militärzeitung in November 1862, an analysis of war. The single page of writing is estimated to fetch 450,000 to 550,000 yuan.
The two manuscripts are currently in the collection of Chinese real estate tycoon and author Feng Lun. Feng said he hopes more people can learn about and understand the profound meanings in Marxism. Part of the revenue will be donated to charity.