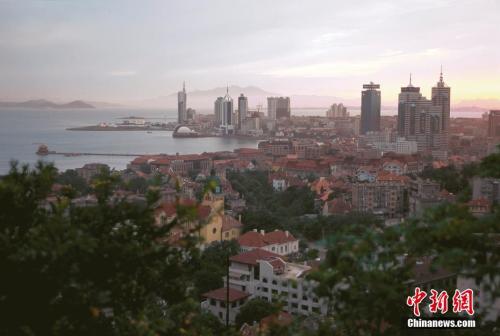 An aerial view of Qingdao City, Shandong Province. (Photo/China News Service)
(ECNS) - The beautiful coastal city of Qingdao in Shandong Province is expected to become a global film hub, hosting its first film festival named after Shanghai Cooperation Organization (SCO).
The film festival will be held on the sidelines of the SCO summit in June, the first of its kind after a membership expansion last year. The organization now has China, Kazakhstan, Kyrgyzstan, Russia, Tajikistan, Uzbekistan, India and Pakistan as full members.
With kung fu star Jackie Chan as ambassador, the festival from June 13 to 17 will offer more than 30 activities and the screening of 60 films. National and regional authorities including State Film Administration and Shandong Province People's Government have shown strong support for the festival to be held in West Coast New Zone.
Yuan Meilin, deputy director of the newly established Lingshan Bay Film Bureau, said respect for cultural diversity and pursuit of common development has been part of the Shanghai Spirit adopted by the SCO, meaning the festival will use film to promote cultural exchanges among countries.
Yuan also said it is a great opportunity for Qingdao to show the world its ambition to be a city of film.
Internationally, Qingdao is perhaps best known for its Tsingtao Brewery and world-class brands like Haier Electronics. Many tourists are impressed with its good environment, iconic sea bridge and modern skyline. A major seaport and industrial center, Qingdao is now striving to boost its global influence in the film industry.
At Lingshan Bay, Oriental Movie Metropolis became functional in April after four years of construction and investment of 50 billion yuan. With 40 world-class stages and a 10,000-square-meter studio pavilion, the world's largest, it is well positioned to be a major Chinese studio complex combining film and television production.
Lai Ming, film and television production department chief at Oriental Movie Metropolis, said Qingdao itself is a unique shooting location and a solid talent pool along with government support will lead to the growth of film-centered industries.
Lingshan Bay has attracted more than 160 film and TV production companies, turning the once-small fishing village into a new industrial city.
In the city's 13th Five-Year Plan, the local government intends to build a world-class production base and make it a centerpiece of Qingdao's cultural industry. The city also plans to take a leading role in building China's national film trading center.
Yuan said Qingdao's film industry will gain more global attention during the SCO summit. "We are building a significant platform to promote Chinese movies across the world and international movies in China," Yuan said.
In November 2017, Qingdao was included in the UNESCO Creative Cities Network film category, the first city in China named "City of Film."
Qingdao is building confidence film due to rapid growth in the movie market. The country's movie box office revenue rose to 20.22 billion yuan in the first quarter, setting a world record.