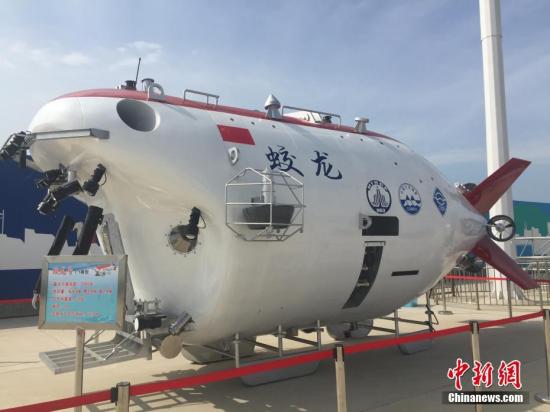 A model of China's first manned deep-sea research submersible Jiaolong. (Photo/China News Service)
(ECNS) -- China's new mother vessel for the manned deep-sea research submersible Jiaolong will be named Shenhai Yihao (Deep Sea No. 1), said Ding Zhongjun, deputy chief engineer at the National Deep-Sea Base Management Center, on Thursday.
Jiaolong, which is undergoing a major maintenance check at the base, will start a global deep-sea scientific exploration mission in 2020. The former mother vessel for Jiaolong was Xiangyanghong 09, which was decommissioned.
The new vessel, to be delivered around March 2019, will have a displacement of approximately 4,000 tons and be able to travel 12,000 nautical miles per journey, giving it greater capabilities than Xiangyanghong 09.
Shenhai Yihao can carry unmanned submersibles Jiaolong, Hailong and Qianlong together for coordinated operations, said Ding.
Named after a mythical dragon, Jiaolong reached its deepest depth of 7,062 meters in the Mariana Trench in June of 2012. Jiaolong has dived 158 times in the past five years.
Since the end of last year, Jiaolong has been back at the National Deep-Sea Base for repairs and upgrades mainly related to three aspects—underwater positioning and search capabilities, terrain mapping, and direct sample collecting.
There are two plans proposed for the 2020 global exploration mission, but a final decision has not been made, said Ding, adding that the priority is to meet the requirements for ocean resources and environmental protection.
He also said China may work with other countries involved in the One Belt and One Road initiative to complete the exploration.