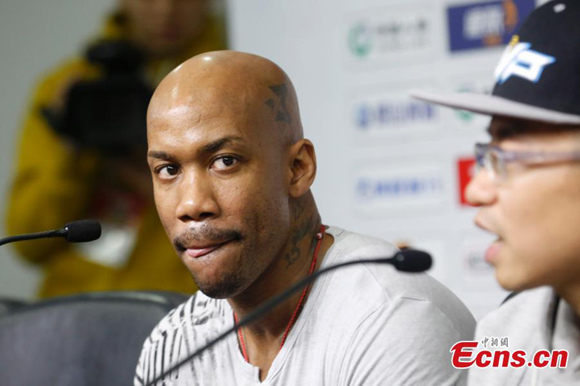 Former NBA star Stephon Marbury meets the press before playing in his last-ever game in the China Basketball Association's regular-season finale in Beijing, Feb. 11, 2018. (Photo: China News Service/Han Haidan)
(ECNS) -- Retiring ex-NBA star Stephon Marbury said he has applied for China's green card, calling the country his home.
Marbury, 41, is known for his 22-year professional basketball career and as a two-time NBA All Star. He was a top player with the New York Knicks and also a three-time CBA (China Basketball Association) champion.
In New York on Tuesday to participate in an NECBL exchange match with overseas Chinese students, Marbury received a warm welcome from more than 30 fans waiting at the venue.
NECBL chairman Gao Ran said he has great respect for Marbury because as a foreigner he has shown his love for China.
Marbury said it was not a smooth transition to success in his career in China and that at the beginning he found it really hard to adapt to Chinese food. But now he has a stomach like a Chinese, he said.
Marbury added he appreciates the peaceful life and understands the love and passion of Chinese people, believing part of him is tied up with the country.
He also said he has a lot of ideas in mind and will engage in charity events for Chinese children after retirement, promising that a great retirement party will be held in Beijing.