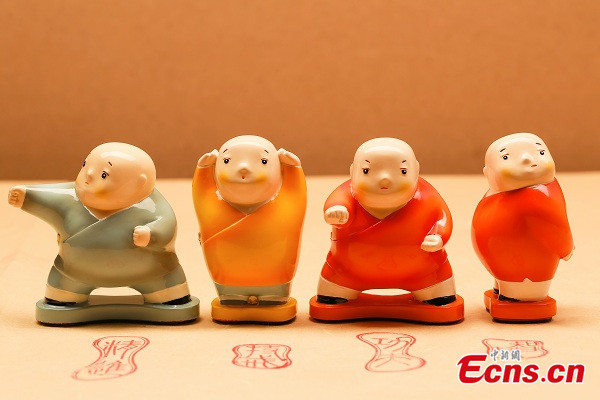 Paper weights inspired by Shaolin temple kungfu masters (Photo: Courtesy of the Network of International Culturalink Entities)
(ECNS) - A Chinese Cultural Creations Show will be staged at China Cultural Centers worldwide from May 10 to June 30, according to a press conference held at Jianfu Palace Garden in the Palace Museum on Tuesday.
Creations showcasing Chinese cultural elements, from imperial roof decorations of the Forbidden City to Silk Road-inspired scarves, elegant celadon ware, entertaining shadow plays and soothing music performances, will greet visitors during the event, to be held at 35 China centers across the world.
Zheng Hao, deputy director of International Communications at the Ministry of Culture and Tourism, said at the press conference that the show will form the core of China Culture Week 2018, a globally coordinated brand event spearheaded by cultural centers.
Centers across the globe will team up with other departments to organize the exhibition. Combining exhibitions with forums, panels, lectures, product launches, and other activities, the show will be a comprehensive cultural event to boost exchange and cooperation.
An incense burner inspired by Chinese oracle bone inscriptions (Photo: Courtesy of the Network of International Culturalink Entities)
Architectural components, relics and stories about the Palace Museum have been creatively used to develop chic, cute and also practical products to respond to the changing Zeitgeist. Popular "beaded earphones" mimic beads worn by officials attending the royal court, while dolls and cat-themed souvenirs blend cultural identities.
The Silk Road-themed NICE Choice gathers the newest, most remarkable creations from previous key cultural industry fairs, including relics, intangible heritage and designs, showcasing the country's achievements in marketing cultural products. Some 800 pieces in 30 categories and across 50 brands will be exhibited.
The centerpiece on China's stamps aims to help visitors understand traditional Chinese culture and history, and promote exchange with countries along the One Belt and One Road initiative. Dabaoen Temple in Nanjing City, east China's Zhejiang Province, will also be featured on items like tea pots and brocade work.
Speakers with traditional Chinese elements (Photo: Courtesy of the Network of International Culturalink Entities)
Ren Wanping, deputy director of the Palace Museum, Gu Jun, vice general manager of the China National Philatelic Corporation, Wang Yudong, vice general manager of Beijing Gehua Cultural Development Group, and Yu Peng, director of the China International Culture Exchange Centre, as well as Liu Hongge and Li Rui, deputy directors of the China International Culture Exchange Centre, attended the press conference alongside Zheng and reporters from more than 50 media outlets.
China has established 35 China Cultural Centers to date and plans to increase the number to 50 by 2020.
These centers have contributed significantly to promoting culture exchanges as well as the One Belt and One Road initiative.
From 2016, the centers have collaborated on the annual China Culture Week with themes ranging from commemorating the 400th anniversary of the death of William Shakespeare and Chinese playwright Tang Xianzu, who died in the same year, to a focus on Chinese intangible cultural heritage. This year, the centers will make it a priority to support cultural companies to display their products and services at China Culture Week.