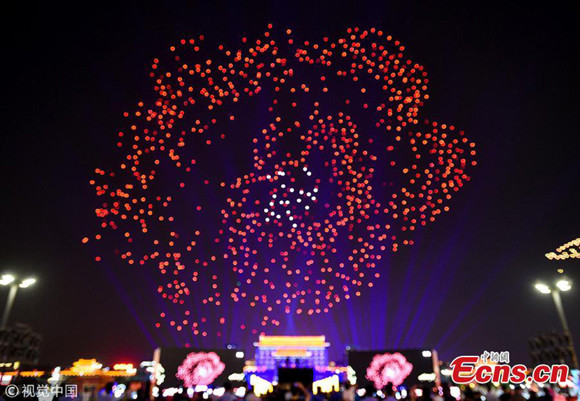 Drones make a formation in the air over the illuminated Yongning Gate in Xi'an City, capital of Northwest China's Shaanxi Province, May 1, 2018. (Photo/VCG)
(ECNS) -- Signal interference likely caused the poor performance of hundreds of drones during a show in Xi'an City, Northwest China's Shaanxi Province, on May 1, according to expert analysis.
Against the backdrop of an illuminated old city wall, Xi'an held a grand opening ceremony for a cultural festival with 1,374 luminous dancing drones making patterns and scenes in the air as the centerpiece.
The event organizer had planned for the show to set a world record. However, half of drones did not perform properly.
Zhang Baogang, director of the drone collection at the College of Global Change and Earth System Science at Beijing Normal University, said it is highly possible that the drones were affected by signal interference.
The problem was not random, and it appeared that many drones operating in the same area lost control, according to Zhang.
"For this large-scale performance, each drone had a flying route predetermined, so the drones might've been affected by signals, had their protection system activated, and flew back to their starting point."
The company behind the drone show, EHang Egret, has 'liked' a Weibo post that claimed the nighttime show was "intentionally disrupted."
Meanwhile, other sources said the monitor was not working that night as signals were apparently jammed.
Although the formal show was a failure, EHang Egret still set a Guinness World Record for the most UAV's flying at the same time, thanks to a rehearsal on April 29.