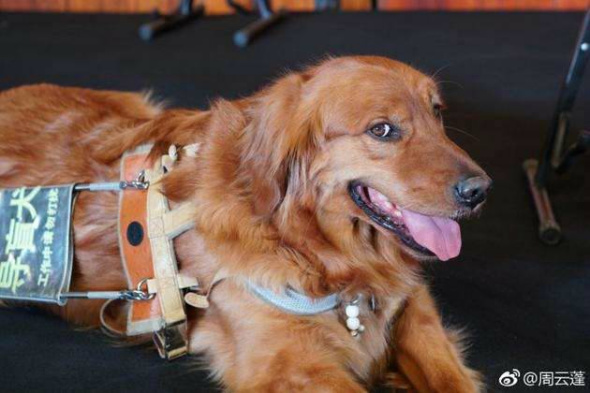 Blind Chinese singer Zhou Yunpeng's guide dog. (Photo/Zhou Yunpeng's Weibo account)
(ECNS) -- Blind Chinese singer Zhou Yunpeng and his guide dog were not allowed to check into a Sheraton Hotel in Shanghai, local media reported.
Known for his relaxed guitar playing and sharp songs about daily life, the singer arrived in Shanghai on April 30 for the Strawberry Music Festival.
Zhou's agent said the hotel treated the dog named Xiongxiong as a pet and demanded the singer provide its hygiene license. After failing to reach an agreement, the singer moved on to stay elsewhere.
The singer has faced similar embarrassments at hotels in several cities. A hotel in Nanjing, Jiangsu Province, refused to let Zhou check in because staff were worried the dog's hair might enter the ventilation system and land in other rooms.
Zhou said on Weibo that he was very disappointed about rejections at hotels and called for respect for visually impaired people.
Shanghai's upscale hotels generally decline guests with pets, reported the Shanghai Morning Post.
The law on the protection of disabled persons only says that blind people need to obey national regulations when bringing an assistance dog to public spaces. But China still lacks a clear law regarding their use at hotels, leaving operators to make their own decisions, said the report.