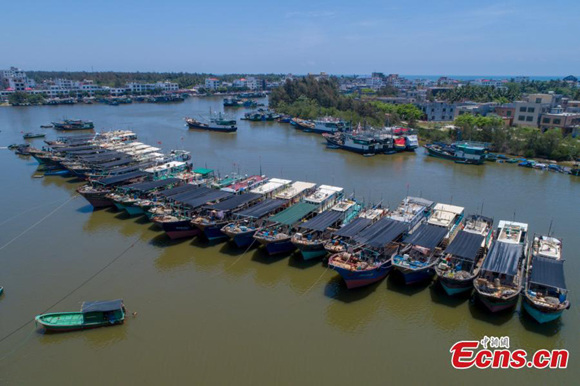 Fishing vessels berth at a port in Qionghai City, South China's Hainan Province, May 1, 2018. (Photo: China News Service/Luo Yunfei)
(ECNS) -- China plans to build 10 major fishing port clusters before 2025 along the country's coast, according to an action plan jointly released by the National Development and Reform Commission and Ministry of Agriculture and Rural Affairs.
The National Fishing Port Construction Plan (2018-2025) states China will further improve disaster prevention and mitigation, promote sustainable growth in the fishing industry and accelerate the pace of developing fishing harbors.
The 10 port clusters will lie along Liaodong Peninsula, Bohai Gulf, Shandong Peninsula, Jiangsu, Shanghai-Zhejiang, Southeastern Costal Area, Guangdong, Beibu Gulf, Hainan Island and other locales on the South China Sea.
The plan calls for building 64 central harbors, 85 first-class ports, 93 fishing port-based economic zones and an increase in the number of boats that can be sheltered in ports, which will rise from the current 145,300 to 214,300.
Development of the ports is expected to drive the integration of primary, secondary and tertiary industries, expanding revenues by 1 trillion yuan (about $636 million)and also promoting the social and economic development of coastal areas
South China's Hainan Island is expected to see significant growth in years to come, with a number of new fishing ports built or upgraded. More than half of boats on the island will be able to take shelter in ports, a dramatic rise from the current level of 29.8 percent, while six economic zones centered around ports will be built, according to the action plan.