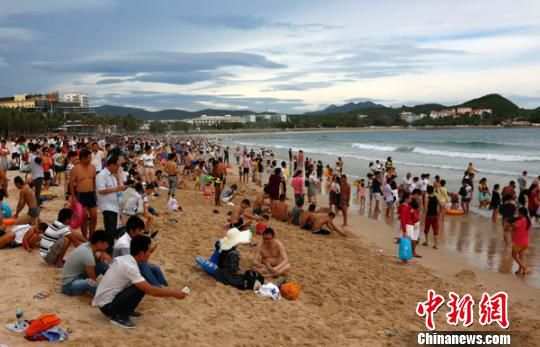 Tourists visit Dadonghai Beach in Sanya City, Hainan Province. (File photo/China News Service)
(ECNS) -- Sanya City in Hainan Province has rolled out new incentives to encourage people to report illegal practices in the tourism industry ahead of the May Day holiday, Shanghai-based The Paper reported.
The public is encouraged to report illegal tourism acts to authorities by telephone, WeChat or text message, and whistle-blowers will receive rewards as high as 150,000 yuan (about $24,000), according to the policy.
Conducting unlicensed business activities, hiring uncertified tourism workers, providing disqualified products or services, selling fake goods, overcharging tourists, and forced purchasing or selling are all on the list of illegal practices.
The city's department of industry and commerce, food and drug supervision bureau, police and price control agency are required to keep accurate records of any reports and pass on information to tourism authorities within three days.
A popular tourist attraction, Sanya received a total of 148,800 visitors during the three-day May Day holiday in 2017, up 15.76 percent year-on-year. In recent years, during the peak travel season, many cities in China have suffered scandals where tourists have been either overcharged or mistreated as a result of illegal tourism practices.