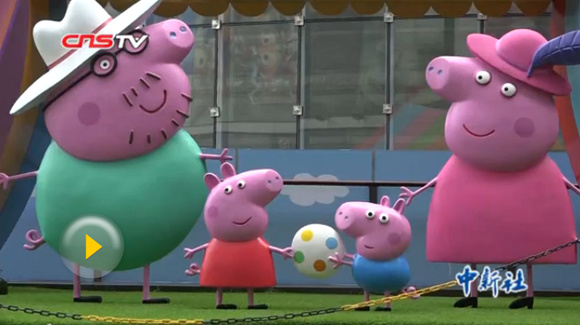 Images of Peppa Pig family. (Photo/screenshot from China News Service Video)
(ECNS) -- Peppa Pig copyright holder Entertainment One (eOne) said it will cooperate with local animation and toy company Alpha Group Co to further develop the Chinese market and welcome the Year of the Pig, Beijing Morning Post reported.
Since Chinese national broadcaster China Central Television acquired the broadcast rights for Peppa Pig in 2015, the preschool cartoon character from the United Kingdom has quickly dominated screens, becoming one of the most popular cartoons among Chinese children.
So far, it has been broadcast 45 billion times on Chinese online video platforms iQiyi, Youku and Tudou. Chinese social networking added fuel to the fire, with the emoji of the pink piggy very much on-trend, successfully winning the hearts of young adults.
Having benefitted from the strong push in the Chinese market, the porcine profit machine brings its rights holder $1 billion in licensing and merchandising sales each year.
Peppa's promising performance in China coupled with the Year of the Pig in 2019, as part of the Chinese Zodiac, has created a market opportunity for eOne.
Andrew Carley, eOne's executive vice-president, said the company is preparing to increase the popularity of Peppa by launching new themed toys and products, including opening a theme park and producing a three-year Peppa show around the country.
Alpha Group Co, based in southern China's Guangdong Province, is the owner of popular cartoons Super Wings and Pleasant Goat. The company is preparing to launch further Peppa Pig themed toys and figurines this year, confirmed the company's manager Suo Dong.