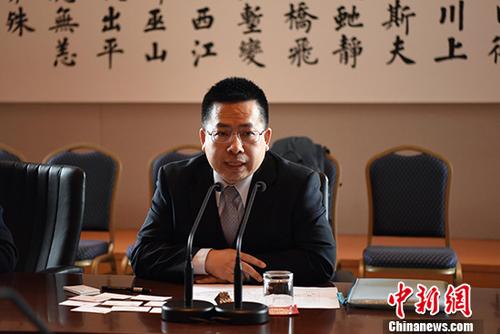 Ruan Zongze, vice president of the China Institute of International Studies. (Photo/China News Service)
(ECNS) -- Ruan Zongze, vice president of the China Institute of International Studies (CIIS), said he is doubtful about the real intention behind United States President Donald Trump's cozying up to Chinese President Xi Jinping in a tweet.
Amid ongoing trade frictions, Trump tweeted on Sunday, "President Xi and I will always be friends, no matter what happens with our dispute on trade. China will take down its Trade Barriers because it is the right thing to do. Taxes will become Reciprocal & a deal will be made on Intellectual Property. Great future for both countries!"
During an interview with Chinese and foreign media at the Chinese Embassy in Washington, Ruan said he has many questions about Trump's tweet because it's difficult to tell whether the U.S. treats China as a friend or foe.
"If he (Trump) really wants to be a friend, what he has said and done in trade is really disappointing," said Ruan, a senior research fellow at a think tank affiliated with China's Ministry of Foreign Affairs.
Ruan said Trump is playing a two-faced game or perhaps executing a negotiation scheme, making a drama of the Sino-U.S. trade issue on one hand and sending a message of peace on the other.
The U.S. "made a mistake twice" in threatening to impose tariffs on Chinese goods because Washington underestimated China's determination, according to Ruan. The U.S. also missed the chance to address the issue when it didn't respond to China's goodwill in sending two senior officials -- Yang Jiechi and Liu He -- to Washington.
The scholar also said China is forced to respond to the U.S. threats with "comprehensive counter measures," meaning potential actions on trade, service, investment and finance. However, Ruan said China as a responsible country will not consider options involving exchange rates, as that will only make the situation more complicated.