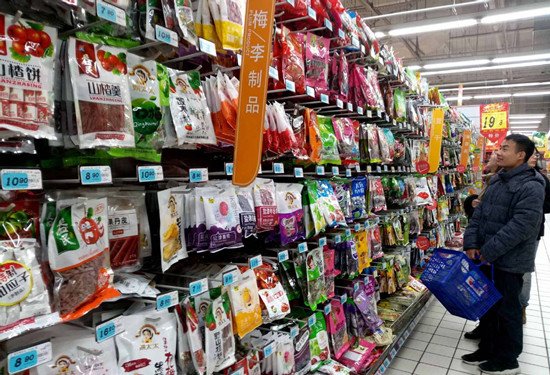 Consumers pick up food from a supermarket in Shanghai on Jan 30, 2018.(Photo/China Daily)
(ECNS) -- Strong consumer spending has provided "ballast" for the stable growth of China's economy, said the National Development and Reform Commission on Tuesday.
China's consumer spending maintained a rapid and stable growth this year as consumption of physical commodities got upgraded and the services sector expanded.
Data shows total retail sales of consumer goods reached 6.1 trillion yuan (about $970 billion) in the first two months of the year, up by 9.7 percent year-on-year.
In the physical commodity category, spending on automobiles increased rapidly, the main contributor to accelerated total retail sales.
The country's campaign in boosting Internet access speeds and lowering its cost also drove spending in the information sector. By the end of February, the number of mobile Internet users in China totaled 1.28 billion, up 14.8 percent, with data usage rising by 186 percent. Products that indicated a rise in purchasing such as massage chairs, intelligent toilet seat covers and drum washing machines reported significant growth too.
In the service category, tourism continued to prosper while spending in the cultural sector and booming movie box office also maintained robust growth. Total box office sales in China reached 20.2 billion yuan in the first quarter, up 39.8 percent year-on-year, among which domestic movies grew 93.2 percent to reach 15 billion yuan.
The commission also reported a strong growth in newly emerging consumption trends amid the integration of Internet and traditional fields. E-commerce has expanded in rural areas to mobilize the spending power of farmers.
Retail sales of consumer goods in rural areas totaled 903.6 billion yuan, up 10.7 percent year-on-year, higher than the growth rate in urban areas.