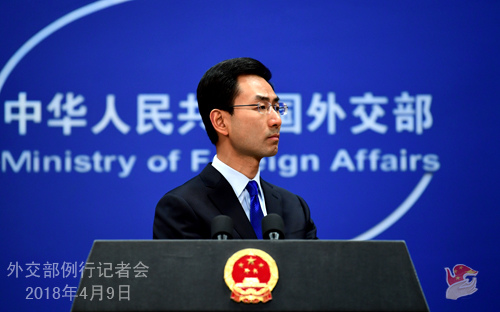 China's Foreign Ministry Spokesperson Geng Shuang addresses a regular press conference in Beijing, April 9, 2018. (Photo/www.fmprc.gov.cn)
(ECNS) -- U.S. moves to escalate trade frictions with China are wrong and have caused widespread concerns in the international community, said Foreign Ministry Spokesperson Geng Shuang at a regular press conference on Monday.
The international community is closely following the development of the trade issue between China and the U.S. because it not only concerns the two countries, but also involves everyone in one way or another.
The trade issue is related to a matter of principle regarding whether or not to follow international rules, to defend the multilateral regime, and to promote economic globalization, said Geng.
The recent words and acts of the U.S., especially its adoption of restrictive trade measures, are essentially a confrontation of unilateralism against multilateralism, protectionism against free trade. The measures target everyone and the interests of all, not just China and China's interests.
Geng also said many leaders of states and international organizations made clear that it is international cooperation and multilateral coordination, rather than unilateralism and protectionism, that offer a way out, and rules-based international order must be preserved.
The move made by the U.S. side has made the international community highly concerned and worried—as an old Chinese saying goes, "a just cause gains wide support, while an unjust one enjoys none," Geng said.
The spokesman added that China stands ready to work with the international community to oppose trade protectionism, support liberalization and facilitation of trade and investment, and safeguard the authority of the multilateral trading regime.
China will work together to forge an open world economy, build a more open, inclusive, balanced, and win-win economic globalization that benefits all, and make greater contributions to human progress, Geng added.