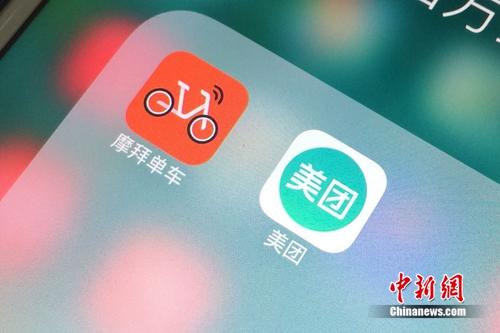 Logos of Mobike and Meituan. (Photo/China News Service)
(ECNS) — Meituan-Dianping, China's largest provider of on-demand online services, purchased top bike-sharing start-up Mobike on Wednesday, expanding its O2O (offline to online) service ecosystem.
Mobike will remain an independent brand with independent operations after the deal while the management team remains unchanged, with Wang Xiaofeng, Hu Weiwei and Xia Yiping as CEO, president and CTO respectively.
Wang Xing, CEO of Meituan-Dianping, an online platform for ordering food and booking movie and restaurant seats, said Mobike stands out as an authentic creation of China that contributes significantly to low-carbon mobility and green lifestyles, and has great potential in smart transportation.
Wang Xiaofeng said Mobike and Meituan-Dianping, both backed by Internet giant Tencent, share core business philosophies and will continue focusing on value creation for users.