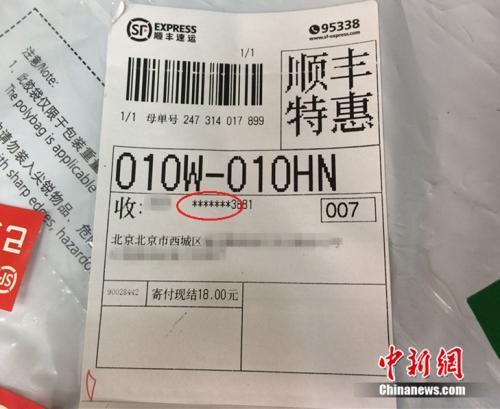 Some information is partly protected on a package sheet. (Photo/China News Service)
(ECNS) -- Courier companies and individuals engaging in courier services will face fines up to 100,000 yuan ($16,000) if they are caught selling or disclosing users' personal data, according to a new regulation that goes into effect on May 1.
The regulation clarifies stipulations over a broad range of issues, including user-data protection and claims for compensation in case of loss. Courier service providers are required to deal with complaints within seven days or face administrative penalty.
Users have been required to provide personal identification to send parcels since Nov. 11, 2015, according to the State Post Bureau. However, the policy faces loopholes in implementation, partly due to people's concerns about potential personal data leakage, the Beijing News reported.
The new regulation further requires strict implementation of the real-name policy. "It's a civic duty to show your ID," said Xu Yong, a logistics expert.
China's delivery services sector has seen an average annual growth of 42 percent in the past decade, recording 495 billion yuan in revenue in 2017. Seven courier companies went public during that period.
Gong Fuzhao, founder of Sun Express Consulting, said the new rules enable regulators to focus on prevention of personal data leakage, rather than on punishment after leaks have been detected.
To help the sustainable and healthy development of the rapidly growing sector, the regulation also encourages companies to use biodegradable and reusable packaging.