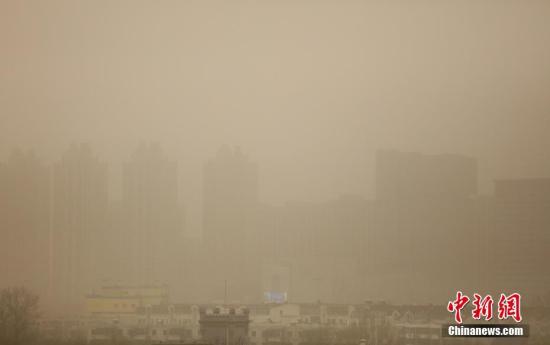 Sandstorms blanket Beijing, March 28, 2018. (Photo/China News Service)
(ECNS) -- Beijing issued the first blue alert for sandstorms this year on Wednesday as the air quality index soared to hazardous levels.
A sandstorm smothered the Chinese capital on Wednesday morning, reducing visibility to 2 to 4 kilometers and causing many pedestrians to protect their faces with scarves and dust masks.
Beijing's Environmental Protection Monitoring Center said the sandstorms originated from Mongolia's Gobi
Desert and moved south to strike China, hitting northern Beijing at 6am. One hour later, the level of average PM10 pollutants rose to 1,976 micrograms per cubic meter.
Data showed that Beijing had 2.2 days of sandstorms a year on average from 1981 to 2011.
China has a four-tier color-coded weather warning system for storms, with red representing the most severe, followed by orange, yellow and blue.