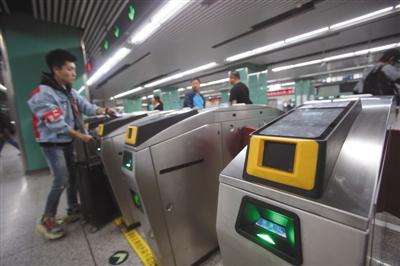 A subway passenger passes through a subway gate at the Line 5 of Beijing Subway, March 26, 2018. (Photo/China News Service)
(ECNS) — Passengers will be able to scan a QR code with their mobile phone to pay for subway rides in Beijing, Beijing News reported, adding that the service may take effect across all subway lines in the capital before July.
The service does not require phones to have a Near Field Communication (NFC) function and can be used by all smartphones with the Yitongxing app, the report said.
Passengers can also enjoy preferential policies such a 20 percent discount after spending 100 yuan ($16) on subway rides in a month or a 50 percent discount after spending 150 yuan.
By the end of last year, passengers could use the Yitongxing app, which has about 1.8 million registered members, to buy subway tickets online at 19 lines in Beijing. More than 80,000 subway tickets have been sold online each day.
QR code payments have been tested on the Airport Line since September. So far, 800 passengers have swiped their phones, taking only 1 second to enter the station.
According to official data, more than 10 million journeys happen on Beijing's subways every day, or 11 million on work days, with about 15 percent of passengers buying one-way tickets. By scanning the QR code to enter the subway station, they will reduce queuing times and alleviate passenger congestion during rush hours.