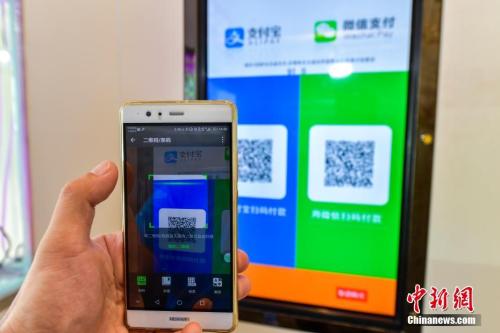 A customer scans QR code to pay at a store. (Photo/China News Service)
(ECNS) -- Wal-Mart has defended its move to stop Alipay service at some stores in western China as "a commercial decision," Beijing Youth Daily reported.
The largest U.S. retailer said its stores in Yunnan, Guizhou, Sichuan provinces and Chongqing Municipality have stopped accepting Alipay, a payment platform owned by Alibaba-affiliated Ant Financial Services, since March 15. Meanwhile, Wal-Mart continues to allow Alipay's top rival WeChat Pay, which is backed by Tencent, and is supporting promotional events from March 15 to April 1.
Wal-Mart said it has more than 90 stores in western China, one of its five operating areas in the country. Stores in this region have achieved a strategic agreement with WeChat Pay and will carry out precise marketing cooperation, according to Wal-Mart.
Even though Wal-Mart promised that clients using WeChat Pay can get discounts at some stores, clients complained that such a decision was an infringement on their rights and created inconvenience during shopping.
Some customers said Wal-Mart's preference forced them to transfer money into their WeChat accounts to finish transactions.
Pan Helin, chief economist of the China Non-Performing Assets Industry Alliance, told the newspaper that Wal-Mart's decision will certainly damage clients' legitimate interests, infringe on their right to choose payment methods, and affect the convenience of mobile payments. It will undermine free trade in the market and damage customer benefits, Pan said.
So far, customers can still use Alipay at Wal-Mart stores in Beijing, said the report.