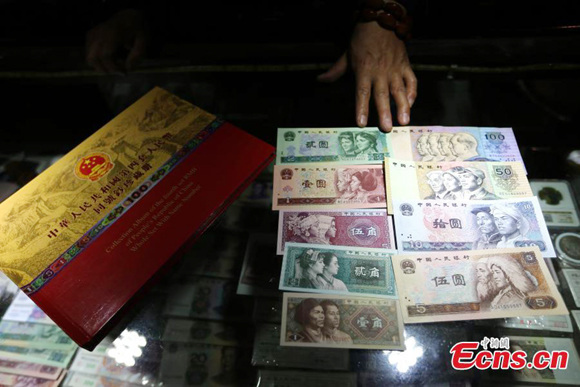 Banknotes of the 4th edition renminbi are on show in Taiyuan City, capital of North China's Shanxi Province, March 22, 2018.(Photo: China News Service/Zhang Yun)
(ECNS) — The People's Bank of China (PBOC), China's central bank, has announced on its official website that the majority of 4th series renminbi (RMB) (or yuan) will be withdrawn from circulation on May 1.
The currency includes 100-yuan, 50-yuan, 10-yuan, 5-yuan, 2-yuan, 1-yuan and 0.2-yuan notes as well as the 0.1-yuan coin, according to the statement.
It required banks and financial institutes to only take and no longer issue the 0.1-yuan coin starting from Nov. 1, 2016. According to the new regulation, people are suggested to exchange their fourth series renminbi mainly in the period from May 1 to April 30, 2019.
China Banknote Printing and Minting Corp. said among the series of Chinese renminbi, the fourth edition had the longest planning time of 18 years as it was first proposed in January 1967 and finalized in May 1985.
The People's Bank of China started issuing the fourth edition on April 27, 1987. Then, to mark the 50th anniversary of the founding of People's Republic of China in 1999, the central bank introduced the fifth series, with the 20-yuan note as a new denomination.
Five versions of the currency have been issued in China since the People's Republic of China was founded in 1949, of which the first three versions have been withdrawn from circulation.
Xiao Lei, a financial analyst, said the second and third versions of renminbi are more valuable for collecting purposes compared to the fourth version that was issued in large amounts.