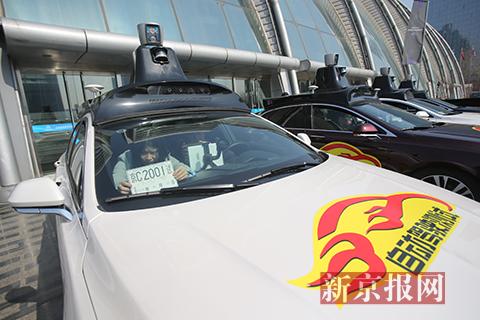 A self-driving car made by Baidu has got a temporary number plate. (Photo/Beijing News)
(ECNS) -- Beijing's traffic authority has issued temporary number plates to self-driving cars developed by Chinese search engine Baidu.
Beijing Traffic Management Bureau made requirements on tests of automatic cars clearer, demanding testing be conducted mainly outside the 5th Ring Road and that cars had already driven more than 5,000 kilometers in closed areas.
Beijing authorities have introduced three more protocols for self-driving vehicles following two regulations released in December.
Self-driving cars need to reach a certain competency in terms of understanding traffic laws and human intervention in case of emergency before they are allowed to run on public roads. Cars undergoing tests must drive on a designated road at a given time with their movements monitored at all times, Beijing News reported.
An official with the bureau said roads selected for self-driving car tests are clearly marked and situated away from office buildings, hospitals and schools where traffic is often heavy.
Beijing has built a closed 13.3-hectare area in Haidian District for testing self-driving cars.
A total of 33 roads with a combined length of 105 kilometers in the Beijing Economic-Technological Development Area, Shunyi District and Haidian District are available for tests of self-driving vehicles.
A police officer of Beijing Traffic Management Bureau issues a temporary number plate for self-driving car tests to Baidu. (Photo/Beijing News)