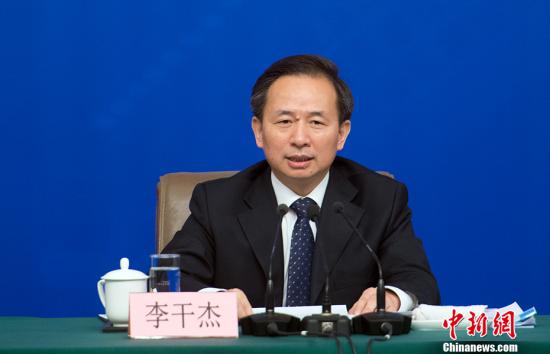 Li Ganjie, then the minister of Environment Protection, addresses said at a press conference during the first session of the 13th National People's Congress on March 17, 2018. (Photo/China News Service)
(ECNS) -- It is the Chinese government's right to restrict and ban the import of solid waste, a senior official said at a press conference during the first session of the 13th National People's Congress on March 17. [Special coverage]
Restricting and prohibiting the import of foreign garbage is one of the key measures the Chinese government can take to aid the implementation of a new development path, improve eco-environmental quality and protect national ecological safety and people's health, said Li Ganjie, then the minister of Environment Protection.
Li was renamed the minister of Ecological Environment on Monday.
China was one of the parties at the Basel Convention, which specified that nations had the right to ban hazardous waste from coming in. The convention also said that nations were responsible for reducing the movement of hazardous waste between nations. China has the right, and also an obligation, to perform its duties, Li said.
The import of solid waste increased 10 percent to 45 million tons during the past 20 years, Li said.
In addition, many forbidden items and dangerous foreign waste were exported to China, causing extensive damage and environmental pollution as it was processed. In an inspection conducted by the Ministry of Environment Protection last year, 1,074 companies, or 60 percent of the 1,792 inspected enterprises, were found to be the cause of illegal pollution. Their behavior badly affected people's health and caused environmental pollution, Li said.
The Chinese government began to formulate policies to optimize the import catalog and reduce the import of solid waste this year. The move had seen positive results. Further measures or adjustment would be taken gradually, Li said.
Based on the spirit of the Basel Convention, Li said all countries should work to rely on their own capabilities to reduce the production of hazardous wastes and dispose of solid wastes at home.