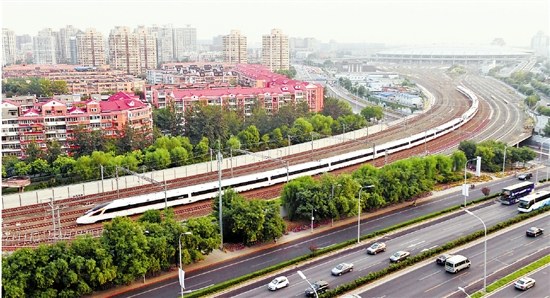 A bullet train runs on its rails. (Photo/Chinanews.com)
(ECNS) -- Fuxing bullet trains will begin operation between Hangzhou and Beijing in April, Chinese media reported.
On April 10, three commuter trains—G19/G20, G31/G32 and G39/G40—will depart from Hangzhou East Railway Station and arrive at Beijing South Railway Station.
Named "Fuxing," meaning rejuvenation, the trains will run at a top speed of 350 kilometers per hour, reducing the travel time between the two destinations to less than four and half hours. Up to this point, the fastest train on the network took five hours and two minutes.
The G20, based on Fuxing's CR400BF bullet train, will have second-class seats, first-class seats and business-class seats, and will be able to carry 1,152 passengers. It will depart Hangzhou East Station daily at 7:48am and arrive at Beijing South at 12:20pm. Stops along the way will include Huzhou, Nanjing South and Jinan West stations.
The G40, the first high-speed train to run between Hangzhou and Beijing at night, will use Fuxing's CR400AF bullet train, leaving Hangzhou East at 7 p.m. each day. It will be the fastest train on that network, taking only four hours and 23 minutes. Nanjing South will be the only stop en route.
The route from Beijing to Hangzhou will also have three Fuxing bullet trains, and the fastest will take four hours and 18 minutes.
Compared with Hexie bullet trains, which have a projected 20-year lifespan, Fuxing trains can be used for 30 years and are faster and smarter. Fuxing trains have an intelligent system as well as a stronger security monitoring system, with Wi-Fi service available onboard.
Prices for the trip will remain the same, the report said. Passengers can book tickets online.