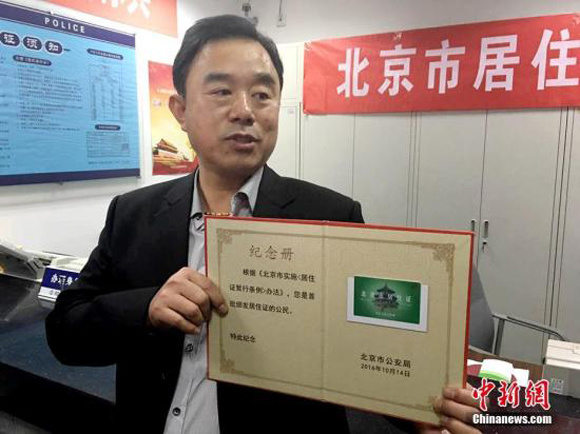 A man shows a Beijing residence permit. (Photo: Chinanews.com/Ma Xueling)
(ECNS) -- China's top economic planner has called for a comprehensive increased relaxation of criteria to register for urban hukou (household registrations) amid efforts to promote a new round of urbanization.
The National Development and Reform Commission said efforts will be made to study how to transfer hukou and credits-for-hukou among regions, as well as help people who live in rented homes to become eligible for urban hukou.
In some cities, migrants can earn points based on their educational backgrounds, skill levels, social security records and participation in charitable activities to have their hukou registered in a particular place.
The commission said graduates from universities or vocational colleges, returned Chinese from overseas study and skilled workers will be able to register their hukou in cities without any preconditions. New generation migrant workers, who can secure a stable job in a city, and farmers who had already abandoned villages and worked in cities for at least five years, will also be allowed to register their hukou.
It also said that small and medium-sized cities should fully open hukou registration, while bigger cities can require applicants to have a record of paying social insurance of no more than five years. Through all the measures, the commission said the aim is to allow 13 million people this year to gain a city hukou.
The number of residence-permit holders should be significantly increased, and the permit will become the basic document for non-local hukou owners to access public services, according to the commission. Cities in the same cluster are also encouraged to adopt mutual recognition of each other's resident permits.
Experts believe inequalities brought by the current hukou system have prevented migrants from enjoying equal access to services in cities, creating a major barrier for the country's urbanization process. Millions of migrant workers who live in cities do not enjoy the same benefits as those who hold an urban hukou.