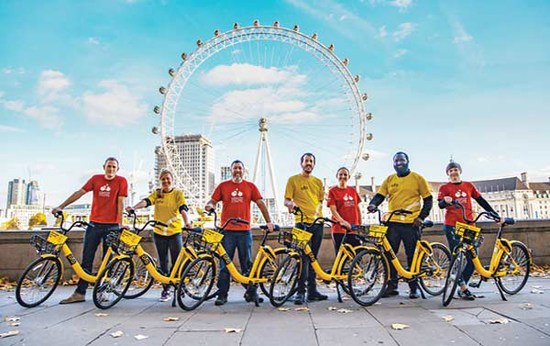 Ofo and bike charity London Cycling Campaign are partnering to get more Londoners on bikes. (Photo provided to chinadaily.com.cn)
(ECNS) -- Chinese bike-sharing startup Ofo has ranked first in China and abroad among all bike-sharing startups, and the sector's user numbers are expected to multiply by five to 10 times in two years on the overseas market, said a report.
Cheetah Lab, a mobile big data analysis platform, said global users of the dockless shared bikes rose to 227 million in the last year.
The report said Ofo and its rival Mobike dominated more than 90 percent of the market in China, far ahead of other startups in overseas markets.
The report also shows that Ofo and Mobike's weekly active penetration rate in China were 0.5729 percent and 0.4534 percent, respectively, taking first and second place, while Hellobike sat at 0.0579 percent. The total weekly active penetration rate rose six-fold.
For the overseas market, the top three startups were Ofo with a weekly active penetration rate of 0.0187 percent, followed by Mobike at 0.0107 percent, and Singapore's homegrown station-less bicycle-sharing system oBike at 0.0107 percent.
China and Singapore recorded the most active use of shared bikes, followed by the United Kingdom, France and Italy, while the United States has just started to see the popularity of the two-wheelers.
Cheetah Lab's executive president Quan Jing said growth potential for the overseas bike-sharing market was still huge, with Chinese brands poised to become the main driving force.
Cheetah Lab forecast that bike-sharing users will increase to 306 million in 2019. It also said the total global demand for bicycles was about 110 million and that cyclists will account for 15 percent of the world's population, helping to drive the growth of shared bikes. Asia's huge population mass means it will become a major battlefield for bike-sharing companies.