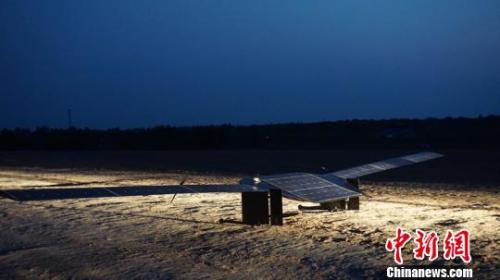 A solar-powered unmanned aerial vehicle. (Photo/China News Service)
(ECNS) -- The China Aerospace Science and Industry Corporation (CASIC), the main contractor for the Chinese space program, said China is researching an aerospace plane and "solar-powered unmanned aerial vehicles".
China plans to launch a homegrown, reusable space plane in a project codenamed "Tengyun Project" (or Cloud Riding Project). The spacecraft, now at an early stage of research, can transport people or a payload into orbit from an ordinary airport and then return to Earth.
Zhang Hongwen, president of the Third Academy of CASIC and also a member of the political advisory body Chinese People's Political Consultative Conference, said the new spacecraft could be revolutionary for space transportation. [Special coverage]
A solar energy-powered aerial vehicle is also under research for flying in "near space", which refers to the region of the atmosphere between 20 km to 100 km, Zhang noted.
He said the unmanned drone could be highly mobile, stay in the air for a long time, provide Internet or telecommunication services unrestricted by regions, and also assist in remote sensing images and meteorological observation.
The unmanned solar drone will be put into use for demonstrative purposes as early as the end of this year, it was added.