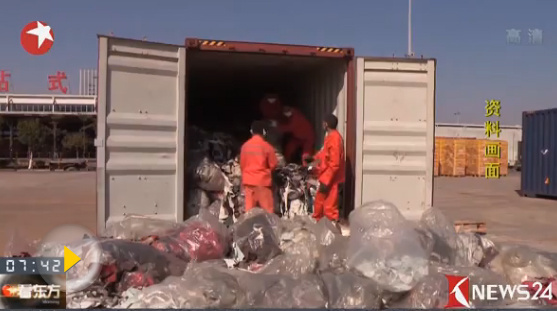 Shanghai customs officials intercepted smuggled waste. (Photo/Video screenshot)
(ECNS) -- The General Administration of Customs has launched a "Blue Sky 2018" campaign from March to December, aimed at cracking down on the import of "foreign garbage," People's Daily reported on Tuesday.
The campaign will seek to prevent waste from other countries being smuggled into China, by sea or land transportation. A total of 24 types of imported waste, including plastic and mixed paper, will be the main targets in the campaign.
Zhang Guangzhi, a spokesperson for the administration, said robust efforts will be made to stop waste-trafficking rings and eradicate smuggling channels, while cooperation with local environmental and quality control authorities will also help strengthen the supervision of imported solid waste.
On Feb. 2, the administration's anti-smuggling bureau launched its first raid against waste smuggling this year in Shenzhen, Tianjin, Harbin and Qingdao. By Feb. 27, the administration verified 50,000 tons of smuggled waste in 69 cases.