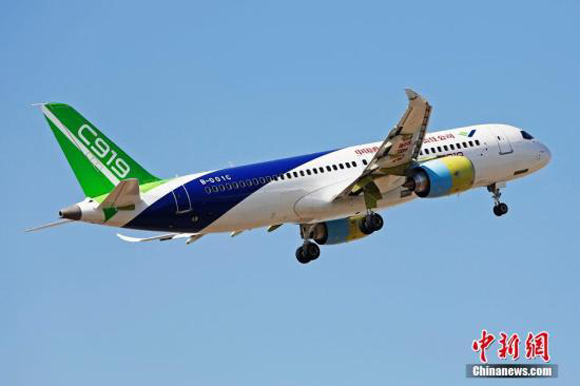 A C919 jet plane takes off in a test flight. (Photo/China News Service)
(ECNS) -- The third C919 large passenger aircraft will be taken on a test flight from Shanghai's Pudong International Airport by the end of the year, said Wu Guanghui, chief designer of the aircraft and also deputy general manager of the Commercial Aircraft Corporation of China (COMAC).
Wu made the announcement at the first session of the 13th National People's Congress in Beijing. [Special coverage]
The C919 is in the test-flight phase following a successful maiden flight on May 5, 2017, and a second plane later on Dec. 17. The narrow-body jumbo was developed to rival the updated Airbus A320 and the new Boeing B737.
The two planes have undertaken 23 test flights this year, said Wu, adding that three more C919 passenger planes will make their first test flights next year.
The Shanghai-based manufacturer is going all out to accelerate research on the C919 and has received 815 orders from 28 customers at home and abroad, a clear indication of its popularity, said Wu.
COMAC also plans to deliver 19 ARJ21 planes, a regional aircraft with 90 economy seats, this year.
It has set up a joint venture with a Russian state company to build the wide-body passenger jet CR929, with development now in full swing.