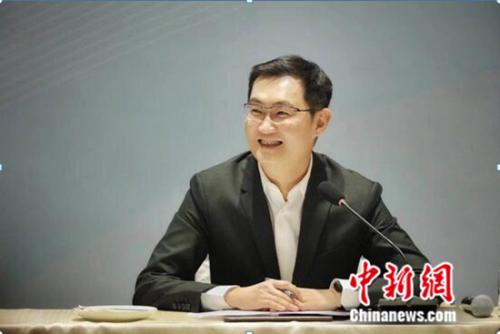 Pony Ma, chairman and CEO of Tencent Holdings. (File photo/China News Service)
(ECNS) — Pony Ma, chairman and CEO of Tencent Holdings, said on Tuesday that blockchain is good technology though still at an early stage and that the Internet giant is actively exploring its application. [Special coverage]
Ma said blockchain, the technology that underpins the digital currency bitcoin, can be applied in many areas because it creates an indelible record that cannot be changed.
Tencent is applying the technology in supply chain finance, a 'microgold' service backed by the Industrial and Commercial Bank of China, logistics information, legal proofs and documents, and the non-profit search for missing people, said Ma.
He also said Tencent has accumulated 40 million transactions in the 'microgold' service and also worked with many banks to store tens of thousands of documents that can be used as legal proof.
Tencent will not engage in Initial Coin Offerings because it considers the technology immature and filled with many risks, said Ma, adding that problems may rise if everyone turns to ICOs.
"Digital currencies are quite hot now, but we are not part of it. We will not make an ICO because I think it's highly risky," said Ma.
Cai Yige, general manager of Tencent's blockchain operations, said the company is approaching it from the perspective of underlying platform technology and also actively exploring its use.
Wang Jun, chief researcher at Tencent Financial Technology Think Tank, also said the healthy development of blockchain requires more business and legal input. Wang noted the regulations over ICOs are quite necessary to prevent financial risk.