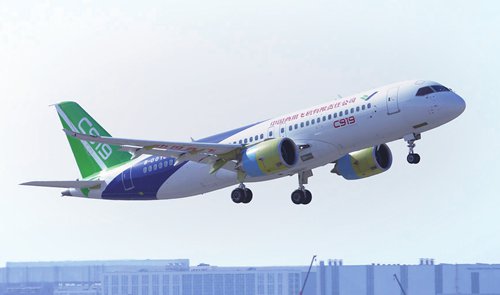 C919 passenger jet takes off for a test flight in Shanghai on Sunday. (File photo/Courtesy of COMAC)
(ECNS) -- C919, China's first home-developed large passenger plane, will undergo tests using six prototype aircraft, according to developer Commercial Aircraft Corp of China (COMAC).
"In order to ensure the aircraft's safety, we have to conduct a significant number of test flights to gain data to help determine the limits of its performance," said Wang Wei, chief engineer of the test flight center at COMAC.
The first C919, China's homegrown narrow-body jet, took off on its maiden flight at Pudong International Airport in Shanghai on May 5, 2017. In December, the second prototype completed a maiden flight in Shanghai, marking a milestone in its efforts to enter the global aviation market.
The six C919 planes are set to take off on different missions, Wang said. Testing of the first three will focus on performance, structure and maneuverability. The fourth plane will be tested on its avionics equipment and illumination functions. The fifth flight will test environmental control abilities and the sixth, its cabin system.
Based on China's two major test bases, Dongying in Shandong Province, and Yanliang in Shaanxi Province, COMAC will cooperate with companies such as the Aviation Industry Corporation of China to conduct intensive testing on the C919 in different places and at different times, Wang said.
To date, C919 has received 815 orders from 28 customers from home and abroad.