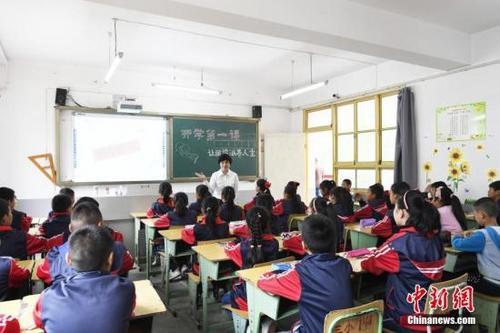 Pupils attend a class. (File photo/China News Service)
(ECNS) -- Chinese primary and secondary school pupils spend longer at school and take more extra-curricular tutoring classes compared with their peers in other countries, making it an increased burden on them, a report said.
In 2015, the average school time for primary pupils increased to 8.1 hours a day, from 6.7 hours in 2010, an increase of 20.9 percent, according to the report released by the 21st Century Education Research Institute. Besides, middle-school students spent 11 hours a day in school in 2015, compared with 7.7 hours five years ago, an increase of 42.9 percent, it said.
In addition, Chinese students were overloaded with homework, which also placed pressure on their parents. About 80 percent of parents said they had to closely supervise their children while they completed their homework.
Chinese students also spent more time on learning outside the official classroom setting. By the end of 2016, about 137 million students had taken part in extra-curricular tutoring classes, the report said, adding that about 47.2 percent of students had taken such classes during compulsory education periods.
The report quoted figures showing Chinese students spent 17 hours a week on learning after classes finished, much longer than the 7.8-hour average internationally.
It was also found that Chinese parents were more willing to choose schools for their children that were outside their areas of habitation during the compulsory education process.
The government encourages students to attend schools nearby their home, and there are no admission examinations during the compulsory education period. However, parents often had other ideas, including seeking personal connections and cultivating student specialties, to select better primary or mid-schools for their children.
Many parents opting to send their children to an out-of-zone school also forced students to learn more and have better results. About 25 percent of students had tried to choose the mid-school they attended, the report said.