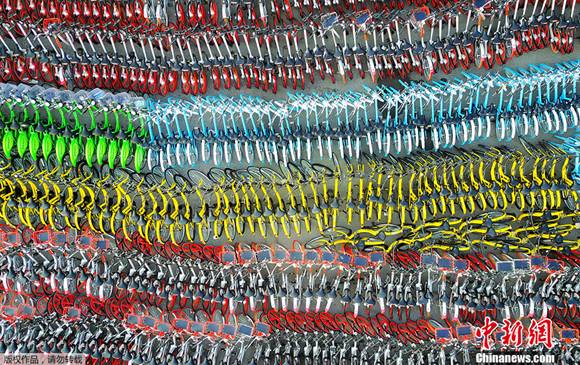 Shared bikes of different companies are seen on the street. (File photo/Agencies)
(ECNS) -- More than 20 of 77 bike-sharing companies have closed down or stopped operations amid a surge in two-wheeler startups, said Liu Xiaoming, vice minister of the Ministry of Transportation, on Saturday.
Liu said the 77 companies deployed 23 million bikes on the streets, which were used a combined 17 billion times, with the highest peak use hitting 70 million rides a day.
It was estimated that shared bikes helped reduce traffic costs totalling 16.1 billion yuan ($2.6 billion) that otherwise would rise from traffic congestion, said Liu, adding the startups as well as related companies in the sector created 200 billion yuan in social values.
Liu also said the ministry received 14 suggestions from deputies to the National People's Congress, the country's top legislature, and members of the Chinese People's Political Consultative Conference, the top advisory body, to regulate the shared bikes.
The suggestions call for better management over parking of shared bikes and strengthened supervision of user deposits with the bike-sharing companies. Some have suggested a zero deposit to use the bikes, according to Liu.
Despite an environmentally friendly way of mobility, the flood of bikes also affected transportation and public space. Beijing and Shanghai are among cities that have now introduced rules to regulate shared bikes.