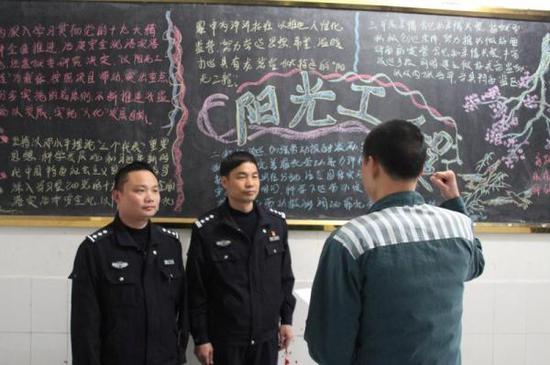 A prisoner makes a pledge to prison officials for festival parole. (Photo/rmzxb.com.cn)
(ECNS) -- Shanghai Municipal Prison Administration has allowed 10 inmates to return to their homes for Spring Festival, the Chinese Lunar New Year, with one condition: each should wear a GPS tracker and report to their respective jails every day.
The 10 inmates, who are all Shanghai natives and serving time for different crimes, are from the city's four jails.
An officer with the administration said inmates who performed well behind the bars and met other requirements are qualified for the temporary reunion with their family members during the most important festival in China.
A 51-year-old prisoner in Baoshan Jail, who has served six of an 11-year prison term for smuggling, will be on festival release from New Year's Eve on Feb. 15 to Feb. 19, as his parents are not in good health.
Each of the inmates will wear a GPS tracking bracelet and their whereabouts can be monitored at any given time, said the officer, adding that alerts will be prompted in case of violations, including attempts to damage or remove the tracker.
Inmates released in the period also need to register with local police stations and report their daily activities to prisons between 5 pm to 8 pm, according to the bureau.
Prisons in other provinces have also allowed inmates to be out of jail during the festival. Sichuan will allow 260 prisoners, electronically monitored, to celebrate the festival with their family members. Shaanxi Province will also release over 100 prisoners out of jail for the holiday period.