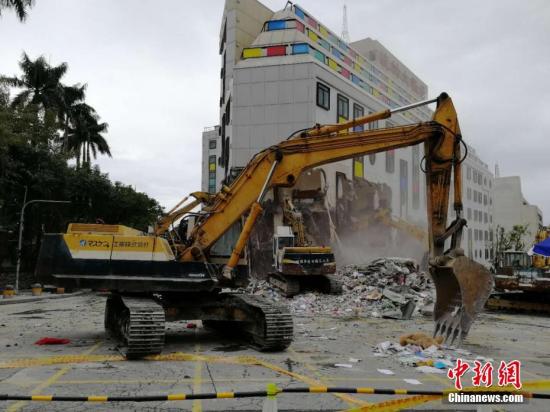 A crane begins to demolish the earthquake-hit Marshal Hotel in Hualien, Taiwan, Feb. 9, 2018. (Photo/China News Service)
(ECNS) -- Five tourists from Beijing are among the seven missing after a deadly earthquake in Taiwan's Hualien County.
The magnitude 6.5 quake jolted waters near Hualien on Tuesday, killing at least 10 and leaving 272 injured, with seven still missing so far.
Of the victims, four came from the Chinese mainland. Among the missing, five are confirmed to be members of a family from Beijing, trapped in a room of the damaged Yun Men Tusi Ti building. The family include a couple, their child and parents.
Specialist machines have detected no sign of life in the building but rescuers are continuing the search, Beijing News reported, citing a source from the Taiwan-based Straits Exchange Foundation (SEF).
The Taiwan affairs office of the Beijing municipal government has contacted family members of the missing tourists, visited them, and promised to offer assistance for their visit to Taiwan, the Beijing Daily reported.