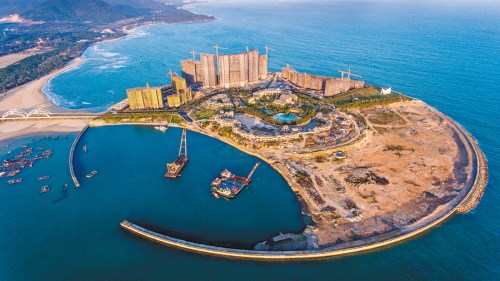 Construction of a resort project at Riyue Bay, or Sun Moon Bay, in Wanning, Hainan province, has been halted.(Photo/China News Service)
(ECNS) -- China will introduce stricter controls over reclamation of land from the sea while making more efforts to build a "maritime power," said a senior official on Sunday.
China will renovate and repair 2,000 hectares of seawater and coastal areas by 2020, working to ensure that more than 85 percent of immediate offshore areas have good water quality, said Wang Hong, head of the State Oceanic Administration of China, at a national marine conference on Sunday.
China's gross revenue from ocean products exceeded 7.8 trillion yuan last year and the aim is to raise it to 10 trillion yuan by 2020, with a total of 38 million jobs involved, Wang said.
The administration called a halt to land reclamation at regional levels in 2017, suspended approvals for new sea development plans, and conducted a thorough check of sewage outfalls into the sea.
In 2018, the administration will adopt strict measures to control the creation of new land areas from oceans, make more efforts to manage and protect coastal sea areas, and regulate the transfer of rights to sea-area use. The protection of natural coastlines will also be included as a parameter to gauge local government work.
The marine economy suffers from unbalanced and insufficient development and growth quality needs to be improved, Wang added.