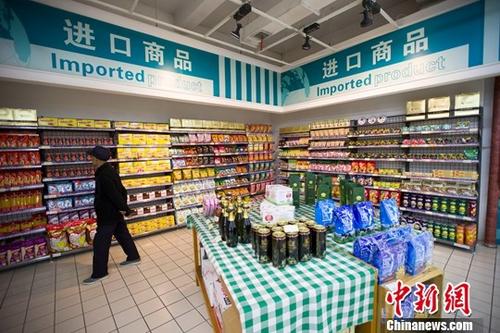 A consumer chooses imported products at a supermarket in Taiyuan, Shanxi Province. (File photo/China News Service)
(ECNS) -- China now collects zero tariffs on more than 8,000 kinds of imported products as 15 free trade agreements have taken effect, a Ministry of Commerce spokesman said Thursday.
China has signed 16 agreements with 24 countries and regions, with all but one now in force, said spokesman Gao Feng at a regular press conference.
Nearly one-third of China's imported products, mostly consumer oriented, are now duty free under the current free trade framework, offering substantial benefits to Chinese consumers, Gao said.
Tariffs on some cosmetics from Switzerland have dropped to zero, the spokesman confirmed.
Chinese consumers can aslo buy low-cost, high-quality agricultural products from across the world during any season. Tropical fruit from ASEAN countries including durian, lichee and dragon fruit saw tariffs drop to zero from 15 to 30 percent in the past. Duties on imported consumer electronics have also declined significantly.
More products will be duty free as China further develops its free trade zones, Gao said.
It was added that China's overall consumption landscape is currently becoming more diversified, quality-centered and individual-focused.